SPRINGFIELD, MO. — President Bush and John Kerry tangled long distance Friday in a new get-tougher phase of their battle for the White House in critical swing states.
For Bush, the message was: "Results matter," and he's delivered.
"My opponent has good intentions, but intentions do not always translate to results," Bush said. "After 19 years in the United States Senate, my opponent has had thousands of votes but very few signature achievements."
For Kerry, the message was: "We can do better," and he's the best to do it.
"You're here because you believe deeply -- in your hearts and your guts -- that we can do better in America," Kerry told thousands of supporters in downtown Scranton, Pa. "We can lift this country up."
Buoyed by his raucous send-off after he accepted the Democratic presidential standard in Boston Thursday night, Kerry also pressed the "Two Americas" theme that his running mate, John Edwards, used during the primaries.
"Americans are playing by the rules, while a whole group of people are writing the rules for themselves and leaving the rest of America out," Kerry told a campaign rally as he left Boston.
Kerry did not directly address the president's criticisms Friday, leaving the task to his running mate.
During a night rally at the Pennsylvania capital building in Harrisburg, Edwards said of the Bush comments: "Here we go again. Same old, same old thing; you know, we've seen this for months. Relentless negative attacks against John Kerry."
Kicking off a two-week, coast-to-coast Believe in America tour of 21 states, Kerry charged that Bush has mishandled the war with Iraq and the broader battle against terrorism, while pushing economic policies that unfairly favor the wealthy few.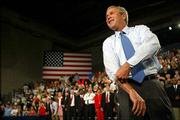 Happy anniversary
To celebrate the 27th wedding anniversary of John and Elizabeth Edwards, Kerry treated the couple to lunch at a Wendy's.
And it was quite a treat, marking a tradition for the couple, who dined at a Wendy's on their first anniversary because they were too poor as young law students to afford much else.
Along the way Friday, Kerry also continued his explicit pitches for independent and Republican votes, calling for new health care and education programs and better international relations. And he pressed the ongoing campaign dialogue with Bush over values.
"It's not about Republican or Democrat, liberal or conservative," Kerry said. "It's about mainstream American values that define our nation."
Bush charges back
Fresh from a week in seclusion at his Central Texas ranch while Democrats officially minted the Kerry-Edwards ticket in Boston, Bush charged back on the campaign trail with a retooled stump speech.
He was a president of accomplishment, he said, belittling Kerry as an indecisive senator who has done little during his two decades on Capitol Hill.
"It's not enough to advocate reform. You have to be able to get it done," Bush said. "When it comes to choosing a president, results matter."
The president's first stop was the pitcher's mound at the new Hammons Field in Springfield, Mo., where more than 7,000 supporters gathered in the early morning after a heavy rain overnight.
He entered from left field and spoke from a stage built to cover the mound.
His stump speech was a bit more visionary than earlier ones.
"I'm asking for four more years to make our country safer, to make the economy stronger, to make our future brighter for every single citizen," Bush said, repeating a new campaign mantra that he introduced about 10 days ago: "We are turning the corner, and we're not turning back."
Protesters turn out
Hundreds of protesters, carrying signs and chanting, gathered outside the stadium.
"I'm so frightened about what's happening to the country," said Joan Wagner, 72, of Springfield.
Wagner said it was the first campaign year in which she has participated in a protest, and was doing so now because she is "so frustrated and concerned about the way the country is going."
Her sign -- "Don't waive your rights while waiving your flag" -- was among the many displayed by the protesters.
Others signs read, "No more Bush, no more lies" and "Draft dodgers shouldn't start wars." Boos from the protesters could be heard on television whenever the crowd inside the stadium cheered one of Bush's remarks.
During August, on what the Bush campaign is billing as the "Heart and Soul of America" tour, his political strategists have planned an elaborate rollout of a new agenda, including some immediate proposals for change in the sprawling U.S. intelligence community as early as Monday.
Copyright 2018 The Lawrence Journal-World. All rights reserved. This material may not be published, broadcast, rewritten or redistributed. We strive to uphold our values for every story published.