Getting across Lawrence is sometimes scary for Randy Breeden. Not many city streets are built for bicycles.
"It's not that easy, but I'm kind of used to the traffic," said Breeden, president of the Lawrence Bicycle Club. "I just take my chances -- going down Kentucky Street is kind of dicey, when somebody could open a door and take you out."
That could change under an updated city-county bicycle plan to be considered tonight by the Lawrence-Douglas County Planning Commission. It contains dozens of proposals to build new bike lanes and paths throughout the city, increasing bicycling's prominence as an alternative form of transportation.
"We're trying to come up with a system that's comprehensive and has connectivity and that's reasonable," said Bill Ahrens, the city's transportation planner. "That hasn't happened before."
The plan includes proposed construction of a recreational bike path near 31st Street between Kasold Drive and Noria Road at a cost of nearly $1.5 million. Less pricey projects include construction of a $791,000 bike lane on East 19th Street between Haskell and Franklin roads, and building a bike lane on West 15th Street and Bob Billings Parkway between Engel Road and Wakarusa Drive at a cost of $708,000.
Three dozen projects are on the list of proposed bicycle paths and lanes, but that doesn't mean they will get built. The list functions as a sort of wish list.
"This lets people know where we need routes or connections to existing routes," Ahrens said. "If money becomes available, it gives a list to work off of."
Similar plans have been in existence since 1976, leading to the designation of more than 50 miles of on-road bicycle lanes, plus another 20 miles of pathways within the city. There are nearly 30 miles of bicycle paths at Clinton Lake and along the Kansas River east of North Lawrence.
The new plan reflects a recent city ordinance requiring that bike lanes be part of collector streets built in the city's newest developments.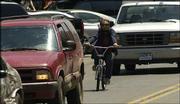 "As new developments are built, basically there will be four-foot-wide bike lanes," said Eric Struckhoff, chairman of the Lawrence-Douglas County Bicycle Advisory Committee.
He added: "The main thing is to make the road wide enough and put some stripes on it."
That's easier to do on new roads than on old ones. According to the plan, adding a bike lane to a new street costs $20 per linear foot. Revamping an existing road to include a bike lane costs $100 per linear foot.
Struckhoff said the plan was a good start, but more efforts were needed to make bicycling more prominent -- and cars less so -- in the city's transportation plans.
"You can only cram only so many cars into downtown," Struckhoff said.
The difference between bicycle paths and bicycle lanes:¢ A path is separate and independent from the street, intended solely for nonmotorized travel.¢ A lane is a space in the roadway -- designated by stripes, signs or pavement markings -- that allows bicycles to share the roadway with cars and trucks.-- Source: City of Lawrence
Breeden thought differently.
"Some bicyclists think it's real slow in coming," he said of efforts to build bike lanes.
But, Breeden said, "I've been really impressed, any time they do road improvements -- whenever possible, they try to add bike lanes, which is really great. It saves us a lot of work of being an advocate when they do it on their own."
The Planning Commission will consider the plan at 6:30 p.m. today in City Hall, Sixth and Massachusetts streets.
Copyright 2018 The Lawrence Journal-World. All rights reserved. This material may not be published, broadcast, rewritten or redistributed. We strive to uphold our values for every story published.