Chula Vista, Calif. — As often as he likes, American pole vault star Toby Stevenson competes against Sergey Bubka, his idol and the world record holder.
In tandem, they race down the runway and fling themselves over bars more than 19 feet high.
That's some Olympian feat, considering Bubka is retired.
Actually, these head-to-head duels play out on a computer screen, superimposed in digital video overlay. It's part of the latest way USA Track and Field is preparing its runners, jumpers and throwers for Athens.
Since October, USATF has been using a software program called Dartfish to help athletes evaluate their performance through real-time digital video analysis.
To Stevenson, a 27-year-old Stanford graduate, Dartfish has become as essential as the helmet he wears while competing.
"I use it until smoke comes out of the machine. It's great," Stevenson said after a recent workout at the U.S. Olympic Training Center in Chula Vista, a San Diego suburb.
A few days later, Stevenson finished second at the U.S. track and field trials, securing a spot on the Olympic team.
Stevenson can review his practice jumps on a laptop within seconds of a return to earth from one of his vaults. Within two hours of a track meet, he can watch himself on an LCD projector back at the hotel. Or he can have his day's work burned onto a CD.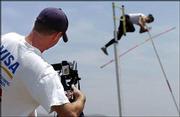 While Stevenson's muscles tell him one thing, the digital video might reveal something else.
"It's a big reason for my success," Stevenson said. "I jump, and between every jump I watch my jump, and after practice I watch every jump on Dartfish."
Stevenson can look at a jump in real time, quarter time, half time or frame-by-frame. He can compare up to four different jumps at once, or have two jumps overlaid to see how consistent he is.
Or he can vault versus Bubka. The technicians who run the DV program converted analog video of Bubka to digital with a few extra steps outside of Dartfish, which grew out of a Swiss company in 1998 with early success in ski racing broadcasting.
"Obviously it's not Dartfish alone, but yeah, I increased my PR (personal record) 10 inches this year," Stevenson said. "I've got the Nos. 1, 2 and 3 jumps in the world right now."
"It's a comparison tool unlike nothing else," says Jen Davidson, sports science technical coordinator for USATF. "The possibilities with this are kind of infinite."
Copyright 2018 The Associated Press. All rights reserved. This material may not be published, broadcast, rewritten or redistributed. We strive to uphold our values for every story published.