Coronado, Calif. — The USS Ronald Reagan, the Navy's newest aircraft carrier, steamed into its new home port Friday, escorted by fireboats shooting 50-foot plumes of water and greeted by a cheering crowd of 10,000 spectators.
"Although the last six weeks have been difficult, and today is very bittersweet, I'm so honored to be here as the USS Ronald Reagan comes into home port," former first lady Nancy Reagan said in her first public appearance since her husband's funeral. "In my heart, I know he is looking down on us today and smiling."
The Navy welcomed the ship with a ceremony that paid tribute in equal parts to the ship, its crew and its namesake -- all with a distinct Hollywood flair.
The crowd gave Mrs. Reagan a standing ovation from the grandstands. Behind the grandstand, images from Reagan's life flashed on a huge screen. The late president's son Michael Reagan, actor Tom Selleck, and several dignitaries attended.
A carnival atmosphere prevailed ahead of the ship's arrival. SeaWorld workers dressed as whales and a Navy band played rock music as vendors hawked souvenirs and soft drinks. A Wisconsin cheesemaker showed off a replica of the ship carved out of a huge block of cheddar cheese.
The evening's finale was to feature fireworks synchronized to a soundtrack including clips of President Reagan uttering his most memorable lines.
"The Gipper is with us today in spirit," said Rep. Randy "Duke" Cunningham, R-Calif., a highly decorated Navy pilot whose voice broke with emotion during the ceremony.
The carrier was commissioned last year and sailed May 27 from Norfolk, Va., with a crew of 3,600, making its lengthy journey through the Straits of Magellan at the tip of South America. The five-ship strike group got word June 5 that Reagan had died at 93.
The flag that flew aboard the ship that day was presented to Mrs. Reagan during the June 11 burial at the Ronald Reagan Presidential Library.
The dimensions of the ship inspire awe: The carrier towers 20 stories above the waterline, and it is nearly as long -- 1,092 feet -- as the Empire State Building. It is worth an estimated $4.5 billion.
The ship "will always be a symbol of valor and U.S. freedom," said Deputy Defense Secretary Paul Wolfowitz, an assistant secretary of state under Reagan.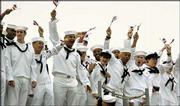 Copyright 2018 The Associated Press. All rights reserved. This material may not be published, broadcast, rewritten or redistributed. We strive to uphold our values for every story published.