Lons-Le-Saunier, France — Lance Armstrong will race again in the Tour de France, although maybe not next year.
The Texan is on the verge of becoming the only rider to win the showcase event six straight times. He would like to focus on other races but is not prepared to turn his back on the 101-year-old Tour for good.
"I would do it. I'm not saying I'd never do it again," he said after Friday's 18th stage. "I'll do it again before I stop. It's a special race. It's everything. You can't have this intensity in any other event."
Asked if he would skip next year's Tour to focus on other events, Armstrong said: "It's too hard to say."
"I haven't made a schedule yet. It's fair to say there's still a lot of things I'd like to do in cycling, like the classics and the hour record, that require a different type of focus."
The key factor would appear to hinge on sponsor demands. Before the Tour, his team signed a three-year, multimillion-dollar sponsorship deal with the Discovery Channel, which will replace U.S. Postal Service.
"I have to discuss it with them," he said. "If they give me the green light on something like that (riding in the classics and the hour record) I might do it. But if they say 'Lance, we'd like you to do the Tour' I understand that, too."
The Tour's top three officials said they had not discussed Armstrong's 2005 plans with the five-time champion.
"He is doubtless the greatest rider ever in the Tour de France. He is proving that," said Patrice Clerc, president of the Tour. "Now, does he want a seventh, or an eighth? I have no idea."
However, the New York Times reported Friday that this was the last time Armstrong would compete in the race. A high-ranking official among race organizers, who did not want to be identified, told the paper Armstrong already had informed the Tour of his plans.
Before the Tour, Armstrong had said he would race in the Tour in 2005. He also said this month he would be competing in 2005, although he didn't specify whether that would include the Tour.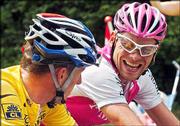 Armstrong has outclassed his rivals as the race heads toward the finish Sunday in Paris. He has won three consecutive stages for the first time and a total of four in this Tour, matching his best showing since he first won the Tour in 1999.
Armstrong long has been criticized for concentrating almost solely on the Tour de France, neglecting classic races that form an important part of cycling tradition. He now is considering classics and wants to go for the hour record, where cyclists try to ride as far as possible in one hour on a circuit.
"I think at some point, I have to start to look at other races in cycling. There's still a lot of things I want to do in cycling," Armstrong said.
Armstrong, the father of three children, also has acknowledged the demands of training for the Tour had taken him away from his family.
"I'm more mentally than physically (tired)," he said Friday. "Mentally I'm ready to go home and see my kids and relax."
Copyright 2017 The Associated Press. All rights reserved. This material may not be published, broadcast, rewritten or redistributed. We strive to uphold our values for every story published.