Denver — John Kerry began his trek to the convention Friday after a rocky start, with his wife barely making the family-themed kickoff rally that was forced indoors because of rain.
Kerry's kickoff started 90 minutes late because Teresa Heinz Kerry's charter flight from Boston was delayed with mechanical problems.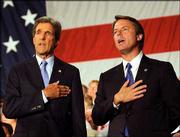 Still, more than 3,000 people waited in a sweltering auditorium to watch Kerry, running mate John Edwards and their families on their last visit West before officially being nominated for the Democratic ticket.
Kerry put aside his typical President Bush-bashing speech and focused on how he would improve health care, employment, world relations and other aspects of American life.
"Step back from the politics," Kerry said. "Step back from the labels. Forget about Democrat, Republican, Independent. Forget about it. Think about your lives ... Everything is on the line in this race."
Kerry's campaign has said he would reveal more about himself personally through his acceptance speech Thursday night. He delivered a nugget, talking about his parents and reading from a letter his mother, Rosemary, wrote to his father, Richard, who was in the Army Air Corps during World War II.
"During the war, my mother wrote to my father, 'You have no idea of the ways in which one can be useful right now.' She said, 'There's something for everyone to do.' My mother's words, I think, ring just as true today as they did 50 years ago."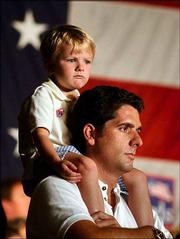 After the rally, the Massachusetts senator headed to Fitzsimons Army Hospital in the Denver suburb of Aurora, where he was born 61 years ago in December and lived for his first three months.
"I started making noise in here, and I'm still making noise," Kerry said as he looked around the former nursery, which is now just an empty room.
Kerry does not typically open up about himself personally, and it's part of the reason Americans don't know much about him. Many Democrats say Kerry needs to reveal more of himself if he's going to win over voters.
During the convention, Kerry hopes to move beyond his Senate voting record to define himself as a husband, father, combat veteran, tough prosecutor, national security expert, outdoorsman and man of faith, according to a campaign message document.
Gov. Kathleen Sebelius on Tuesday will address the Democratic National Convention in Boston.Her address has been scheduled for sometime between 5 p.m. and 8 p.m. local time.Also on Tuesday, Sebelius will participate in a panel discussion on the role of women in leadership.On Thursday, Sebelius will be one of three governors to speak at a forum on health care issues.
Copyright 2018 The Associated Press. All rights reserved. This material may not be published, broadcast, rewritten or redistributed. We strive to uphold our values for every story published.