Dentist Les Miller hooked up his $95,000 CEREC machine, supplier Grant Martin provided $1,500 worth of porcelain crowns and other materials, and Jason Wesco's Douglas County Dental Clinic opened up its office space.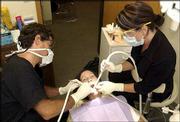 Now Bob Carey Jr. can chew with the right side of his mouth again.
"Psychologically, I feel like a more complete person," said Carey, one of 16 uninsured patients to receive cutting-edge dental restorations Friday at the clinic, 4920 W. 15th St. "I feel like an individual who will go on and do some creative stuff, now, for society."
Such testimonials were commonplace all day, as three Lawrence dentists -- Miller, Joe Gatti and Galen Van Blaricum -- volunteered their time, expertise and equipment to help clear the clinic's growing waiting list for restorative services.
The 7-year-old clinic provides below-cost dental care for uninsured and low-income patients and relies heavily on volunteer services and donated supplies. Typically the clinic can arrange only to have four patients get crowns each month.
That's why Martin organized Friday's effort. Martin works for Patterson Dental Supply Inc., which recently sold CEREC machines to the dentists and knew the equipment could help trim the time necessary to fill the clinic's orders.
Whether it's for a partial overlay or a full porcelain crown, the machine maps the surface of each tooth, creates a three-dimensional model then wirelessly orders a restoration milled on site -- typically within 30 minutes.
Wesco, the clinic's executive director, marveled as patients walked into the clinic brimming with hopeful anticipation, soon to leave with plenty of satisfaction.
For a clinic that anticipates handling more than 3,500 patient visits this year -- up from 2,600 a year ago and 1,500 in 2002 -- Friday's event offered a welcome respite from a constant struggle between growing demands and scarce resources.
"This is great, but our problems are not going to go away," Wesco said. "I don't know where the need ends."
Carey, a father of three who works part-time as a clerk for the Kansas Department of Wildlife and Parks at Perry Lake, knows when his trouble started. It was a little more than two years ago that he felt the pain of losing protective enamel from his No. 2 molar.
"It's like someone's been sticking a needle right into the nerve of my tooth," he said.
Carey had been languishing for more than a year on the waiting list at the clinic, and Friday's hour-long procedure came as a relief. He spent $225 on the work, money the clinic will use to help pay its five full-time staffers, rent and other operational costs that keep the place running.
Miller said that dentists typically would charge $725 for such a procedure, something Carey knew he couldn't afford with his two pre-teen daughters about to need braces.
"I feel like a lot of stress has been lifted off my shoulders, because I always felt I was going to lose a tooth," said Carey, who's gone without dental insurance for five years. "When you lose teeth, you're losing part of your individuality. Now that I can go on and not have to worry about that, I can use my money for some other good."
The Douglas County Dental Clinic recently received a $9,700 grant from the Delta Dental Plan of Kansas Foundation. Clinic officials used the money to buy an X-ray machine, specialized lights and other dental equipment and furnishings for the clinic at 4920 W. 15th St.Jason Wesco, the clinic's executive director, said he was looking forward to receiving assistance from the United Way of Douglas County. As a new United Way agency, the clinic expects to receive about $15,000 in March.The clinic plans to operate on a budget of $350,000 next year, much of it derived from grants and donations.For more information about the clinic, which serves low-income and uninsured patients, call 312-7770.
Copyright 2017 The Lawrence Journal-World. All rights reserved. This material may not be published, broadcast, rewritten or redistributed. We strive to uphold our values for every story published.