Anaheim, Calif. — Travis Hafner hated to leave Anaheim so much, he was the last guy out of the shower in the Cleveland Indians' clubhouse.
Hafner hit three homers to match a major-league record with five in two games, leading the Indians to a 14-5 rout of the Anaheim Angels on Tuesday.
"Hitting three home runs is pretty special because it doesn't happen very often -- especially to me," said Hafner, who had a three-homer game in Double-A ball and another in college. "I guess I can enjoy this one on the plane ride."
Hafner, who went deep in the third, fifth and ninth, was the second player to hit three home runs Tuesday, joining St. Louis slugger Albert Pujols.
He had two homers and five RBIs in Monday night's 8-5 victory -- including a go-ahead, three-run shot in the 10th against Troy Percival.
"This is just a place that I'm really comfortable playing in, and it's got a good backdrop," Hafner said. "I see the ball pretty good here, and I was able to put some good swings on the ball."
Hafner's six RBIs gave him 11 in the two-game series, tying Earl Averill's franchise record for a two-game span. Averill did it in a doubleheader against the Washington Senators on Sept. 17, 1930.
The last time two major-league players hit three homers on the same day was Aug. 10, 2002, according to the Elias Sports Bureau. That day, Sammy Sosa connected three times for the Chicago Cubs at Coors Field, and Philadelphia's Mike Lieberthal did it in Los Angeles.
Cleveland hit six Tuesday against the Angels, including solo shots by John McDonald and Coco Crisp and a three-run drive by Martinez in the eighth. The Indians have homered in a season-high eight straight games and have hit 23 during this stretch.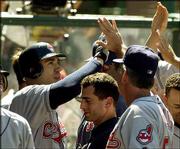 Hafner raised his home-run total this season to 17, three more than he hit as a rookie last year. His two drives off Jarrod Washburn (10-5) and a solo shot in the ninth against Francisco Rodriguez made him the seventh player to hit three homers in a game this season.
All-Star Jake Westbrook (7-5) won for the first time in seven starts since June 14, when he beat Baltimore 14-0 with a four-hitter. The right-hander was charged with five runs and 10 hits in seven-plus innings after being staked to a 10-1 lead through six.
Athletics 1, Blue Jays 0, 14 innings
Oakland, Calif. -- Damian Miller broke up Dave Bush's no-hit bid in the eighth inning, then won the game with a bases-loaded single in the 14th.
Justin Lehr (1-1) pitched 22/3 scoreless innings for his first major-league win.
Yankees 4, Devil Rays 2
St. Petersburg, Fla. -- Gary Sheffield hit his 397th homer and drove in three runs, leading Jose Contreras and New York over Tampa Bay. Contreras (8-3) allowed two runs and four hits in seven innings to beat Victor Zambrano (9-6) for the second time in 12 days. Mariano Rivera got his AL-leading 34th save in 35 chances.
Red Sox 9, Mariners 7
Seattle -- Manny Ramirez and David Ortiz hit consecutive homers to key Boston's eight-run fourth inning against Seattle. Winning pitcher Derek Lowe (8-9) gave up four runs and nine hits in five innings. Keith Foulke, who pitched two innings the previous night, got three outs for his 15th save in 20 chances.
Twins 5, Tigers 4,
10 innings
Detroit -- Jacque Jones homered and drove in the go-ahead run with a sacrifice fly in the 10th inning. Justin Morneau also homered for the Twins, who swept the two-game series after losing six of seven.
Rangers 6, White Sox 4
Arlington, Texas -- Rod Barajas broke a tie with a two-run double in the eighth inning, lifting Texas. Gary Matthews Jr. homered for the AL West-leading Rangers, who have won five of six.
Copyright 2018 The Associated Press. All rights reserved. This material may not be published, broadcast, rewritten or redistributed. We strive to uphold our values for every story published.