Charles Wech stood and looked admiringly at a gleaming blue-and-white, 1957 Ford Fairlane 500 convertible.
"Isn't it beautiful," the 63-year-old Topeka man said Saturday afternoon at the Douglas County 4-H Fairgrounds.
Wech and many others visited the fairgrounds to view 160 rebuilt, souped-up and modified hot rods during the sixth-annual Wizard Run car show organized by the Lawrence Street Rod Assn. Cars and their owners came from Nebraska, Oklahoma and Missouri as well as Kansas for the one-day show, said Bryan Sorenson, show chairman.
Cars and trucks from the 1930s, '40s, '50s and '60s were common, along with a few from the '70s and '80s.
Wech had his own street rod, a 1940 Chevrolet pickup truck, on display elsewhere on the fairgrounds, but he enjoyed looking at the other cars, as well.
"I just like old vehicles," Wech said. "I like everything that has been rebuilt."
Stan Phinney, 61, drove his 1966 Fairlane to the show from Reeds Spring, Mo., near Branson, while Don Long, 62, took his 1940 Chevrolet coupe on a drive to Lawrence from Spokane, Mo. Both have been rebuilding cars since they were teenagers.
"These old cars, every one is a little different," Phinney said as he and Long sat under a canopy near their cars. "They're unique as hell."
"We like to have our cake and eat it, too," Long said. "They are old cars, but we have all the modern stuff, too, such as air conditioning and tilt (steering) wheel."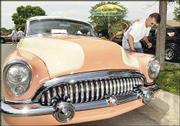 "The only thing new (modern) on my car is the 450-horsepower engine," Phinney said.
"You are always tinkering with them, up until you sell them," Long said.
"Then you get another one," Phinney said.
Long estimated he'd owned and worked on 250 cars during his life. Phinney estimated his total at "three or four dozen."
The car show went on until 4 p.m. At 6 p.m. the vehicles were driven to South Park. Massachusetts Street was blocked off at the park to allow spectators to get near the cars. Cars also were driven at various times through the downtown area.
Sorenson said he hoped that the hot rod show might one day be similar to one in downtown Ottawa, where several hundred cars are on display and part of Main Street is closed off.
"We're hoping this is something we can grow into," he said.
Copyright 2018 The Lawrence Journal-World. All rights reserved. This material may not be published, broadcast, rewritten or redistributed. We strive to uphold our values for every story published.