Marcus Oliveira isn't accustomed to boxing in front of hometown fans.
The 24-year-old member of the Haskell Indian Nations University Boxing Club usually travels the country to battle opponents of his caliber.
That's why Oliveira felt a bit out of place stepping into the ring Saturday night at Coffin Complex on the HINU campus during the Ringside National Native American Boxing Championships.
"It was pretty weird because usually I box in California or at the Olympic Center and other faraway places," Oliveira said. "Usually, only my coaches see me fight so I was nervous because I've never fought in front of so many people that I know."
For two rounds of the men's open 201-pound championship bout Oliveira danced, juked and felt out Dougald Yazzie of Chinle, Ariz.
Then came the third round. Suddenly, the jitters were gone and Oliveira struck like a hurricane. He unleashed a flurry of jabs to the body and blows to the face.
A left jab to the face followed by a vicious right-left combination finished the job. Yazzie wasn't knocked out, but following an eight-count he couldn't continue. The hometown crowd of about 300 fans roared their approval as the championship belt and trophy went to Oliveira.
The victory offered a small bit of redemption, too. After narrowly failing to qualify for the Olympics this spring, Oliveira -- ranked No. 10 nationally among amateur heavyweight fighters according to USA Boxing -- said he believes he's ready to take his fighting to the next level.
"I've got a couple more tournaments coming up," he said, "and then I'm going pro."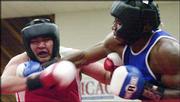 Although the Oliveira-Yazzie bout was the evening's main ticket, 11 more title belts were on the line. The most entertaining was between Ira Frank of Lac du Flambeau, Wis., and Ross John of Kinder, La.
John started fast in the 141-pound men's open final. He connected with a few early blows to the head, and Frank faced two eight-counts in the first 90 seconds.
A few cries of "stop the fight" quickly subsided, however, as John and Frank proceeded to pummel each other for the last three rounds. The crowd erupted at one point when the pair exchanged a flurry of fists for nearly 30 seconds.
Both boxers were woozy by the end, and it was Frank -- the early underdog -- who raised his fists to the crowd in victory. Frank, 24, has been a boxer only since January, but he hails from a boxing family so he said winning the national title was more personal.
"It's in me, you know," he said. "My grandpa boxed, and my dad boxed. It's in me. I'm a fighter. I come to compete, and this feels really good."
Copyright 2018 The Lawrence Journal-World. All rights reserved. This material may not be published, broadcast, rewritten or redistributed. We strive to uphold our values for every story published.