Antwain Jimmerson won't have to deliver a win-one-for-the-Gipper speech tonight.
Jimmerson's East team appears emotionally ready for the third annual Native American All-Star Football Game.
"It's easy motivation for these kids with the West winning the first two games," Jimmerson said. "They're even excited to stretch."
Kickoff will be at 7:30 p.m. at Haskell Stadium.
Members of the East team, the bulk of them from Oklahoma, are well aware that the West posted decisive victories in 2002 (27-10) and 2003 (30-7).
"Oh, yeah," said Taylor Roberts, an East fullback/linebacker from Claremore, Okla. "Knowing your side hasn't won makes you mad and intense. We've been intense the whole time. And mad, too."
Added East lineman Daniel Hawkins, who played for Jimmerson at Tulsa (Okla.) Washington High: "All things come to an end."
Both the East and West teams seem to reflect the approach of their coaches.
In winning the first two games, also at Haskell Stadium, 73-year-old West coach Carl Madison has emphasized a conservative approach aimed at minimizing mistakes. Although the East has had three different coaches, each has implemented a free-wheeling passing offense.
"We have a lot of receivers, so we'll spread out using four or five wideouts," Jimmerson said. "We'll be wide open."
Jimmerson plans to use two quarterbacks -- Kaleb Harris, a 6-foot-1, 175-pounder from Claremore, Okla., and Shaun Jimmie, a 5-10, 185-pounder from Choctaw, Miss.
Harris and Jimmie are mere striplings compared to West quarterbacks Courtney Tsingine (6-5, 220) and Michael Watson (6-3, 190), but Harris stressed there was more to football than size.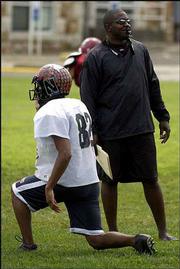 "We're in the same dorm with the West guys," Harris said, "and they're all a quiet, reserved group. Our guys are running around singing and being happy all the time. We're joking and having fun."
Sometimes, Jimmerson said, he just shook his head about the Type-A characters he inherited.
"They ARE different," Jimmerson noted with a smile, "but it's good to see them have a good time. These are the best of the best. We definitely have the best Native American kids here this week."
Jimmerson was an 11th hour replacement for Perry Beaver, the head coach at Jenks, Okla., High who had to withdraw after undergoing heart bypass surgery less than a month ago.
"It's been a great opportunity for me," Jimmerson said. "But the most important thing is for me is to take myself out of it and let 'em play."
Notes
Fifteen members of the East squad -- including Harris, Hawkins and Roberts -- plan to enroll at HINU next month and play football. Haskell coach Eric Brock said three members of the West team were committed to play for the Fightin' Indians. ...
Fans will notice new plank seating in large portions of the venerable stadium. However, the replacement planks for the two sections in front of the press box haven't arrived, so those sections will be roped off. "The new seats will have backs," Brock said. "Not chairbacks, but a backing to lean against."
Copyright 2018 The Lawrence Journal-World. All rights reserved. This material may not be published, broadcast, rewritten or redistributed. We strive to uphold our values for every story published.