Kansas City, Mo. — The Baltimore Orioles took their time on offense against Royals rookie Zack Greinke.
Rafael Palmeiro homered, and David Newhan drove in the go-ahead run in a three-run seventh inning, leading the Orioles to a 3-2 victory over the Kansas City Royals on Thursday night.
"We've got a pretty good offense," Baltimore manager Lee Mazzilli said. "I think once Raffy hit that home run, it kind of propelled the guys in the dugout."
The Orioles scored three runs in the seventh against Greinke after managing only three hits against him in the first six innings. The Orioles won the series three games to one -- their first series victory since May 28-30 against Detroit.
While the clutch hitting in the seventh provided the winning margin, it was an impressive pitching performance that made the victory possible.
Rodrigo Lopez combined with B.J. Ryan, former Royal Jason Grimsley and Jorge Julio to retire the final 24 Kansas City batters. Lopez (6-4) gave up two runs on four hits in the first, then retired the last 15 batters he faced.
"They all pitched well," Mazzilli said. "It was a perfect thing for the set-up with B.J. and Grimsley, then Julio coming in in the ninth to close it out.
"Lopie pitched a pretty good game after giving up two in the first. The other kid (Greinke) pitched a pretty good game, too."
Lopez said he didn't change anything he did after the first inning -- he just was more successful with his pitches.
"I had good movement on my fastball, but in the first I was high," Lopez said. "I couldn't set up the batters like I like. After that, I got my pitches down, and that's when I settled down."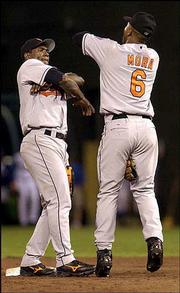 Lopez allowed two runs and four hits, and struck out four in six innings. Julio pitched the ninth for his 11th save in 13 chances, completing the four-hitter.
Greinke (1-5) was cruising until the seventh, when the Orioles broke through against the right-hander.
Palmeiro said he hit a changeup off Greinke to cut the deficit to 2-1.
"He was throwing well, throwing the ball in and out and keeping everyone off balance," Palmeiro said. "I just got a good pitch to hit."
Javy Lopez followed with a double and scored on a one-out double by Jerry Hairston.
Luis Matos was hit by a pitch and Robert Machado reached on an infield hit, loading the bases and ending Greinke's night. Shawn Camp came in and gave up Newhan's RBI single.
Newhan was happy to see Greinke out of the game.
"I don't know about that (move)," Newhan said. "That helped me out because it was nasty trying to get a good pitch to hit against him."
The Royals got off to a fast start against Lopez in the first inning. David DeJesus hit a leadoff single, moved to second on Tony Graffanino's sacrifice and scored on Mike Sweeney's single. Angel Berroa singled one out later and scored on Dee Brown's base hit to center, giving the Royals a quick 2-0 lead. But Brown was thrown out trying to stretch the hit to a double -- and that was the last batter to reach for the Royals.
Greinke gave up three runs on seven hits in 6 1/3 innings and struck out a career-high seven. He has suffered from a lack of run support since being called up from the minors. Greinke has received only 18 runs in his eight starts, including just eight in his five losses.
He wouldn't share the blame for the loss.
"When it's 2-0, they've still got to get two quality hits to get back in the game if you don't walk anyone," he said.
Notes: The Royals have gone six straight games without a home run, their longest power slump since a six-game streak July 23-28, 2002. ... Royals 1B Ken Harvey, who leads the Royals in hitting at .327, was held out of the starting lineup. He pinch hit in the eighth and grounded to second. He grounded out in the eighth, and has just two hits in his last 24 at-bats. ... Miguel Tejada extended his hitting streak to 16 games with a bunt single in the fourth inning. He was 2-for-4. ... Palmeiro's home run was his 39th against the Royals, the most by any opponent.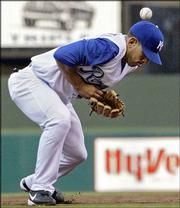 Copyright 2018 The Associated Press. All rights reserved. This material may not be published, broadcast, rewritten or redistributed. We strive to uphold our values for every story published.