When Lynette Woodard gained fame on the basketball court in the late 1970s and early 1980s, women's athletics still was fighting to earn mainstream acceptance in the United States.
Lack of media attention and television coverage prevented most Americans from witnessing Woodard's sensational skills on the hardwood. Therefore, it would be understandable if girls today knew little about Woodard, only the second-leading scorer -- male or female -- in college basketball history.
She could have remained largely unnoticed and been little more than a Wichita playground legend. Instead, rumors spread about the woman from Kansas who could hold her own against men.
Those who saw her play told others about the Kansas University standout who averaged more than 26 points and 12 rebounds a game during her college career. Eventually, people saw her in person when she became the first female Harlem Globetrotter and later played professionally overseas and in the WNBA.
Role model for many
Twenty-seven years after beginning her KU career, the next generation of female basketball players know all about Woodard. They idolize her in much the same way young boys aspire to be Michael Jordan. Girls know Woodard's story, her jersey number, and they try to mimic her moves.
"She started out with a laundry basket and socks," said Missy Vinyard, a senior-to-be at Lawrence High who has known Woodard for eight years. "That's how she started because her brothers wouldn't let her play with them."
Added Malorie Crawford, a senior at Augusta High who has attended KU's camp for 11 years: "She's proved that girls can do what guys can do."
It's obvious that from the first time they pick up a basketball -- in Kansas anyway -- most young girls are told about the impact Woodard had on women's athletics and the game of basketball. She was women's hoops' first bonafide celebrity.
She gave girls a reason to believe they could excel on the court, said Leslie Berger, a senior-to-be on the women's hoops squad at Washington University in St. Louis who attended the KU camp for 11 years and now helps coach it.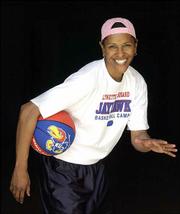 "She was one of my role models growing up," said Berger, who played in high school at Kansas City (Mo.) Pembroke Hill. "I remember coming to camp and everyone having a Lynette Woodard jersey. If you didn't have a Lynette Woodard jersey you were not cool. You had to have one."
'It's totally awesome'
Players soon will be able to read all about Woodard's legacy at the Naismith Memorial Basketball Hall of Fame in Springfield, Mass. She will be inducted into the game's hallowed halls Sept. 10. It will be the second time Woodard is recognized by the Hall. She was inducted as a member of the Globetrotters in 2002 and now will be honored individually.
"It's totally awesome," Woodard said of the honor. "It doesn't get any better than that. When I think about it, it just fills me with great joy. To have that honor bestowed. ... I'll try to find words to express it.
"Last time, I was part of a team, so I went through it but got to be in the background," she added. "I can't imagine what it's going to be like on Sept. 10. I'm going to have to think about the speech."
Woodard, 44, said she isn't content with simply accepting the accolades she's earned as a basketball player -- which include a 1984 Olympic gold medal and being a four-time Kodak All-American in college. She said it's her duty to be an ambassador for the game. That means working at summer camps and teaching girls the intricacies of the sport.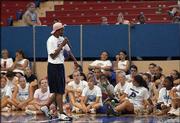 "The game has been totally awesome to me," Woodard said of her reason for coaching. "It's the best part of summer, working with young people and watching them learn and grow as people."
Future plans uncertain
Her time coaching in Lawrence might be limited, however. She spent five years as a KU assistant on Marian Washington's staff, but Washington retired this year, and Woodard was not retained by new coach Bonnie Henrickson. Woodard said being left off the new staff hasn't dampened her spirits, though.
Her future plans are uncertain, but she definitely is keeping busy. She played in the Make-A-Wish Foundation charity golf tournament in Texas with Dallas Mavericks owner Mark Cuban earlier this week, and she has spent the rest of her summer visiting family and friends in Wichita and coaching at camps.
"My approach is that I'm enjoying the summer," Woodard said. "I just got back from coach Washington's induction (into the Women's Basketball Hall of Fame), which was awesome. I've been visiting Wichita quite a bit -- which I haven't had a chance to do in recent years -- and I still go shoot the rock."
Copyright 2018 The Lawrence Journal-World. All rights reserved. This material may not be published, broadcast, rewritten or redistributed. We strive to uphold our values for every story published.