FREMONT, NEB. — Candy Nysingh still cuts and packs meat at Fremont Beef Co., but with jobs in America's meatpacking belt being lost to mad cow disease, she isn't sure for how long.
"It is scary," Nysingh said. "It just happened so fast."
On Dec. 23, the U.S. Department of Agriculture announced that bovine spongiform encephalopathy, or mad cow disease, had been discovered in a Holstein cow in Washington state. More than 30 countries banned U.S. beef products, including Japan and Mexico, and slaughter cattle prices dropped about 18 percent.
Meatpacking plants from Minnesota to Texas and from Iowa to Idaho have since cut jobs because some of the "secondary" meats they produce -- such as beef tongue and intestines -- primarily go to international markets.
Overall meat industry job losses connected to mad cow disease have been relatively few, mainly because domestic demand for steak and hamburger has remained strong, said Ted Schroeder, an agricultural economist at Kansas State University. About 10 percent of U.S. beef is exported.
"The total number of cattle here, the number processed, those things are unchanged," Schroeder said.
But Excel Corp., of Wichita, Kan., laid off 700 workers at five plants in Texas, Kansas, Colorado and Nebraska because of the loss of export markets for secondary meats, spokesman Mark Klein said.
Swift & Co. cut 140 jobs in Colorado, Nebraska, Texas and Idaho for much the same reason, spokesman Jim Herlihy said.
Gary Mickelson, a spokesman for Tyson Foods Inc., said his company laid off about 40 workers at its smaller slaughterhouses in Iowa, Nebraska and Idaho.
If export markets don't open within a year, job losses could grow and spill over into feedlots, equipment and supply companies for meatpacking plants and retail businesses in Midwest towns, Creighton University economics professor Ernie Goss said.
Nebraska would be hit particularly hard if exports don't pick up soon. The beef industry is the largest industry in Nebraska and more cattle is slaughtered here than in any other state.
About 7.8 million head of cattle went through Nebraska's meatpacking plants in 2002, followed by Kansas with 7.4 million head and Texas with 6.4 million.
Nebraska could lose 21,000 jobs, Kansas 17,000, Iowa 6,800 and Minnesota and South Dakota each about 2,300, Goss estimated in a Midwest business conditions survey issued earlier this month.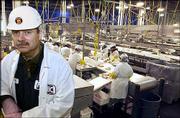 At Fremont Beef, 49 people were laid off in late December -- or 62 percent of the company's work force -- because it lost its Japanese market for its beef tongue, liver and intestines, said Les Leech, the company's chief operating officer.
Fremont Beef is losing money but hopes to stay open at least a year as it waits for resumption of exports, Leech said.
For now, the company is processing a limited amount of pork for Japanese restaurants and vaccuum-packed, sliced beef liver for U.S. grocery stores, Leech said.
The plant, which opened in 1990 and has had annual sales of $80 million, was strangely quiet and largely empty on Friday. Equipment was idled at three lines on the cold processing floor, while in one line Nysingh and about 30 other people in hard hats and layers of sweatshirts and jackets cut and boxed meat.
"Hopefully we can work through this, get the exports back and bring everybody back," Nysingh said.
Mad cow, an incurable disease, leads to holes in the brains of cattle. People who eat contaminated beef products -- brains or spinal cord tissue -- can develop a brain-wasting illness, variant Creutzfeldt-Jakob disease.
Investigators have determined that the infected cow came to the United States from Canada in 2001 and it was born in 1997, shortly before the United States and Canada banned the use of cattle feed made from the ground-up tissue of other livestock. Such feed is believed to spread mad cow disease.
Nebraska Sens. Ben Nelson and Chuck Hagel are among politicians urging the Bush administration to work hard at getting Japan and other countries to start accepting U.S. beef again. Officials from Japan have visited the United States and discussed the export ban.
Ironically, Fremont Beef is owned by two Japanese companies, S Foods and Marubeni Corp., Leech said.
Trade ties like that between Japan and the United States should help because Japanese companies and consumers want U.S. beef, Leech said.
"They're not worried about it," Leech said of his parent companies' view of U.S. beef. "They know it's safe."
Copyright 2018 The Associated Press. All rights reserved. This material may not be published, broadcast, rewritten or redistributed. We strive to uphold our values for every story published.