Baldwin — The way he pumped his fists, Ottawa's Lee Baldwin celebrated like he had just secured the 35th annual Baldwin Invitational basketball tournament championship Tuesday night at Baldwin High.
At the very least, Baldwin's show of emotion was a signal of euphoria, right?
Not completely.
Lee hit a three-pointer and subsequent free throws to help the Cyclones to a 60-54 victory over Augusta.
"More than anything, I was letting go of a little frustration," said Baldwin, who overcame shooting woes to score a game-high 17 points in the Cyclones' tourney opener.
Since the Cyclones and Orioles have split the last two tournament-title games in dramatic fashion, Tuesday's contest was, well ..."Championship caliber," said Ottawa coach David Grover.
"It's not very often in high school basketball that you have a rival school 21/2 hours away," Grover said of Augusta, which is located outside of Wichita. "But this tournament has created just that.
"As soon as I saw the fax last week, I knew this is how the game was going to be."
Augusta took a 54-50 lead with 1:04 to play, but the drama was just beginning.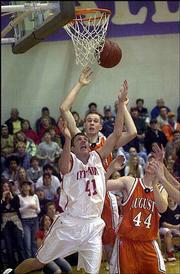 Ottawa's Gabe Sheffield buried a three-pointer to pull the Cyclones within one, and Ottawa's press forced a quick turnover.
Baldwin, who had missed a handful of three-pointers in the second half and back-to-back free throws, didn't hesitate to fire a wide-open three as soon as he got the ball at the top of the key.
"I knew that I had missed a couple already, but I also thought I might be hurting my team more if I didn't shoot," said Baldwin, who along with the rest of the Cyclones (9-2) will face undefeated Mill Valley (9-0) at 6 p.m. Friday in Baldwin's Junior High gym. Mill Valley defeated Kansas City Turner, 68-45,
Host Baldwin, which was coming off a big road win last week against Riley County, wasn't as fortunate as Ottawa.
The Bulldogs ran into Anderson County (9-1), which quickly ran away from Baldwin, 76-38.
BHS coach Jeff Haas was beside himself.
"This has to be the worst game I've ever coached in," said Haas, whose squad will face Wellsville -- which lost, 64-35, to Lincoln Prep -- at 7:30 Friday at BHS gym. "I really thought we were ready to go after our big road win, too."
Copyright 2017 The Lawrence Journal-World. All rights reserved. This material may not be published, broadcast, rewritten or redistributed. We strive to uphold our values for every story published.