Lawrence High boys basketball coach Chris Davis didn't need to pull out a yardstick or a tape measure to show his squad how big its 84-67 win over Kansas City Wyandotte was.
The Lions already knew.
After all, the 17-point victory Tuesday night at the LHS gym came against the same Wyandotte team that shellacked the Lions, 60-34, a year ago. The Bulldogs (4-5) used mostly the same lineup as last year and played the same aggressive defense. The difference was that Lawrence simply was better this time around.
"It is progress," Davis said, "and I think the guys understand that because this team played fantastic defense against us. They were all over us, and we found a way to get shots off and finish them. Then we finished the game with an intensity level that was very good. It was a great measuring stick for us."
The performance was a far cry from what LHS has been accustomed to in recent weeks. After pouring in three-pointers at will at the beginning of the season, the Lions' outside pipes froze and the offense stalled. Then they hit rock bottom by forfeiting two wins for using an ineligible player.
In just five days they've regrouped, however, and suddenly the Lions (2-7) have a two-game winning streak. More importantly, they have hope.
"We had to start over, and we had to find ourselves again," said senior point guard Taylor Parker. "In practice we had to work hard and make a new beginning for ourselves. Tonight we showed up and played hard.
"We didn't know the score was going to be any different than last year, but we knew the pace of play would be different, the entire game would be different."
And it was. Lawrence trailed the Bulldogs 8-7 in the opening minutes, but forced a more up-tempo pace and took control with an 11-2 run midway through the first quarter. It hit eight of 15 three-pointers in the first half and led 46-35 at the break. Whether it was Joe Crane swishing a trey, Parker nailing his free throws, Tony Anderson tearing down a rebound or Alex Ayre taking a charge, everything clicked.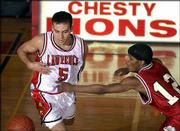 "We came out and knocked down shots early, and they had to play catch-up," Parker said.
Wyandotte never gave much of a chase because the Lions' defense wouldn't let it. Speedy Bulldog point guard Keith Richardson gave the LHS guards trouble with his drive-and-dish capabilities in the first half, so the Lions adjusted in the second half with a new defense that rendered Richardson ineffective. Meanwhile, Lawrence missed all nine of its two-point tries in the third quarter but hit five of 11 treys and stretched its lead to 21. Wyandotte came within 12 late in the game, but stellar free-throw shooting allowed the Lions to put the game away.
"I think our confidence is coming back," Davis said. "Our perimeter shooting is picking up, which has a lot to do with it. It was just nice to see us come out from the very beginning of the game with a lot of intensity. That was the big difference."
Lawrence hit 45 percent of its threes (13-for-29) and 84 percent of its free throws (21-for-25) while holding Wyandotte to 35 percent shooting (22-for-62). Parker led LHS with a game-high 21 points. Ayre scored 14, Crane 11 and Will Thomas added 10. Richardson and Delonzo Marshall scored 16 each for the Bulldogs. The Lions return to action Thursday against Topeka West at the Topeka Invitational Tournament.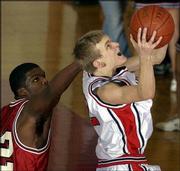 Copyright 2018 The Lawrence Journal-World. All rights reserved. This material may not be published, broadcast, rewritten or redistributed. We strive to uphold our values for every story published.