KNOXVILLE, TENN. — One of Kentucky's winning streaks is still alive.
Chuck Hayes scored off his own miss with 3:49 left in overtime to lead ninth-ranked Kentucky to a 69-68 victory Tuesday night over Tennessee.
Erik Daniels had 19 points and Hayes added 18 points and 16 rebounds for the Wildcats (12-2, 3-1 SEC), who had another scare after their 19-game SEC home winning streak was ended Saturday by Georgia.
Kentucky extended its winning streak on the road in the SEC to 10 games.
"It was exciting to get this win because we overcame a lot of obstacles. This team showed a lot of heart," Kentucky coach Tubby Smith said. "Against Georgia last week, there was no toughness, and we looked worn down."
Tennessee (10-4, 2-3) trailed until it put together two 9-0 runs midway through the second half, the last giving the Volunteers their first lead at 52-51 with 7:37 remaining. Kentucky regained the lead and was ahead by three with 3:53 left.
Tennessee's Scooter McFadgon canned two free throws to make it 61-60, but neither team could score during the next three minutes.
C.J. Watson broke the drought for Tennessee with 55.3 seconds left on a layup.
Watson extended Tennessee's lead to 64-61 with two free throws with 22 seconds to go, but the Vols couldn't hold on.
Cliff Hawkins hit a three-pointer with 16.3 seconds left to tie it at 64.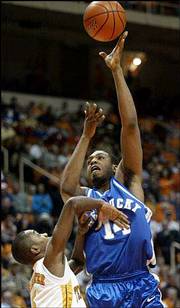 A three-pointer by Daniels and Hayes' rebound and basket was all Kentucky needed to get its fourth straight win over the Vols.
Scooter McFadgon led Tennessee by scoring 19 of his 33 points in the first half.
No. 11 Georgia Tech 73,
No. 10 Wake Forest 66
Winston-Salem, N.C. -- Georgia Tech's Will Bynum scored 20 points, and the Yellow Jackets snapped Wake Forest's 24-game home winning streak.
Wake (11-3, 2-2 ACC) was looking to tie its school record of 25 consecutive victories at Lawrence Joel Coliseum. Instead, the Deacons dropped their third straight game and first at home since Feb. 21, 2002.
Tech (15-2, 3-1) shot 9-for-17 from three-point range, led by Marvin Lewis, who was 4-for-4 and finished with 14 points.
Seton Hall 74,
No. 13 Syracuse 67
East Rutheford, N.J. -- Kelly Whitney had 21 points and eight rebounds to lead Seton Hall over Syracuse, snapping a number of streaks for both teams.
The Pirates (12-4, 2-2 Big East) had lost their last two games and their last five to Syracuse. It was Seton Hall coach Louis Orr's first win in five games against his alma mater.
The loss ended the 13-game winning streak Syracuse (13-2, 3-1) was on since losing its season opener to Charlotte.
Copyright 2017 The Associated Press. All rights reserved. This material may not be published, broadcast, rewritten or redistributed. We strive to uphold our values for every story published.