LEXINGTON, KY. — \ A little rest was all Georgia needed to record another stunning victory.
Rashad Wright scored 20 points to lift the Bulldogs past No. 5 Kentucky, 65-57, Saturday, ending the Wildcats' 19-game Southeastern Conference regular-season winning streak.
Georgia (9-5, 1-2 SEC) beat a top-five opponent for the second time this month. The Bulldogs downed then-No. 3 Georgia Tech, 83-80 in double overtime, Jan. 3.
"This was one of those moments we should embrace," Georgia basketball coach Dennis Felton said.
In between the win over Georgia Tech and the win over Kentucky, Georgia lost its first two SEC games, to Tennessee and South Carolina, by more than 20 points each. With a week between the South Carolina and Kentucky games, Felton gave his players three days off, citing "overall fatigue."
The Bulldogs looked anything but tired against the Wildcats (11-2, 2-1), outrebounding them 36-23 and going 6-of-12 from the three-point line.
Jonas Hayes said the week off gave the Bulldogs time to rest and reflect on what happened.
"It gave us a chance to look really hard within ourselves and find the will and determination to get things done," Hayes said.
The Bulldogs trailed only once, for 70 seconds midway through the second half. Kentucky pulled no closer than five points during the final six minutes, and Wright scored on a dunk with 0.2 seconds left to cap the shocker.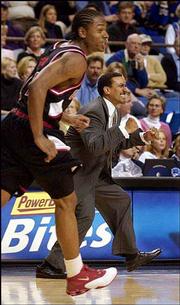 "We had lost two games by 40-plus points, and I felt Kentucky was better than both the teams we lost to," said Georgia's Damien Wilkins, who finished with 11 points and 13 rebounds. "But our first two games, our effort was in question. As a player, you never want to have effort as a question."
No. 2 Duke 84,
No. 4 Wake Forest 72
Durham, N.C. -- J.J. Redick scored 23 points, and Shelden Williams had 16 points, 14 rebounds and eight blocked shots to lift Duke. Chris Duhon added eight points and 14 assists for the Blue Devils (14-1, 4-0 Atlantic Coast Conference), who have won 11 straight overall and 36 in a row at home. Justin Gray scored 18 points for the Demon Deacons (11-2, 2-1), who have lost seven straight at Duke. Eric Williams scored just six points.
No. 6 Saint Joseph's 81, Xavier 73
Cincinnati -- Delonte West made every shot he took -- 12 from the field, six from the line -- for 33 points, and Saint Joseph's (15-0, 5-0 Atlantic 10) extended the best start in school history.
No. 7 Arizona 97,
UCLA 72
Los Angeles -- Channing Frye tied his career high with 26 points, and Arizona (11-3, 3-2 Pac-10) easily handed UCLA (9-4, 5-1) its first Pac-10 loss.
No. 8 Louisville 79, Tulane 58
Louisville, Ky. -- Luke Whitehead scored 16 points, and Louisville (13-1, 4-0 Conference USA) forced 23 turnovers.
No. 10 Cincinnati 85, TCU 57
Cincinnati -- Jason Maxiell returned from an ankle injury and gave unbeaten Cincinnati (13-0, 4-0 Conference USA) the spark it needed to beat TCU.
No. 12 Georgia Tech 81, Maryland 71
Atlanta -- Will Bynum scored a career-high 25 points for Georgia Tech (14-2, 2-1 Atlantic Coast Conference).
No. 13 Pittsburgh 59, Rutgers 49
Pittsburgh -- Jaron Brown scored 19 points and hit Pittsburgh's only two three-pointers to key a late-game comeback. Pittsburgh closed with a 16-2 run after the Scarlet Knights (9-5, 1-3) led by as many as six points in the second half.
No. 23 Vanderbilt 86, No. 15 Florida 72
Nashville, Tenn. -- Matt Freije scored 23 points, Mario Moore added 21, and Vanderbilt (13-2, 2-2 Southeastern Conference) snapped a two-game losing skid. Matt Walsh led the Gators (11-3, 2-1) with 16 points.
No. 17 Syracuse 81, Notre Dame 70
South Bend, Ind. -- Hakim Warrick had 19 points and 10 rebounds, and Syracuse (13-1, 3-0 Big East) won its 13th straight since a season-opening loss.
No. 20 Miss. State 64, Louisiana State 54
Baton Rouge, La. -- Branden Vincent scored 12 points for Mississippi State (14-1, 3-1 Southeastern Conference).
No. 24 Creighton 72, Evansville 53
Omaha, Neb. -- Brody Deren scored 15 points, and Creighton (13-1, 5-1 Missouri Valley Conference) extended its school-record home winning streak to 26 games.
No. 25 Illinois 88, Iowa 82
Champaign, Ill. -- Roger Powell scored 20 points, and Deron Williams keyed a second-half rally to lead Illinois (11-4, 2-2 Big Ten) past Iowa (9-5, 2-2).
Copyright 2017 The Associated Press. All rights reserved. This material may not be published, broadcast, rewritten or redistributed. We strive to uphold our values for every story published.