Foxboro, Mass. — Edgerrin James slashed off tackle on fourth-and-goal from the one with 14 seconds left. Willie McGinest dumped him, and Peyton Manning slapped the turf at the RCA Dome in disgust.
Who says one play can't impact a season?
Especially when that play gave the Patriots a 38-34 win Nov. 30 over the Colts, setting up today's AFC championship game in windy Foxboro instead of indoors at the RCA Dome.
"It was good that we stopped them and that we won, but it could have gone either way," McGinest said. "They've been on fire since then. It's a new season and they've been on top of the world. We've got a lot of other stuff to concentrate on than just that play."
True, the Colts are hot -- they have not punted in two playoff games leading up to this one and have scored 41 and 38 points in the two.
But playing the Colts in Foxboro, where Manning is 0-4 in his career, is certainly more preferable for the Patriots than playing them in Indy, which might have been the case had McGinest not made his play. Temperatures today are expected to be in the high 20s or low 30s with a chance for snow after a week around zero with subzero wind chill.
The Patriots have certainly earned the right to play there.
They have won 13 straight and can become the first team since the unbeaten 1972 Dolphins to win 14 games in a row in one season. They're 9-0 in Foxboro after beating Tennessee, 17-14, last week, and have allowed just 82 points in those nine games, going the final six home games of the regular season yielding just one meaningless touchdown.
But they still perceive a certain lack of respect. They do not have many players with big reputations other than quarterback Tom Brady and kicker Adam Vinatieri, who combined to lead them to a Super Bowl win over St. Louis two years ago.
Their only Pro Bowlers are defensive lineman Richard Seymour, cornerback Ty Law and McGinest, who was added this week as an injury replacement at linebacker.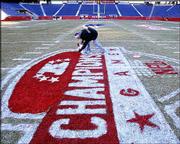 The Colts are loaded with high-profile players, especially on offense, where Manning, James and wide receiver Marvin Harrison have been one of the league's best trios for a half-decade.
In beating Denver and Kansas City, Manning threw for eight touchdowns with no interceptions and had a passer rating of 156.9, 1.4 points short of perfect. But that was with good field conditions against lesser defenses.
Still, he has new options to play with -- Reggie Wayne and Brandon Stokley give him new reliable targets, especially Stokley, who has three TD catches in the two playoff games and is averaging 25.3 yards per catch.
Nor do they fear Foxboro.
The Colts are 8-1 on the road and have shown the ability to win big games from behind, even when they are away.
But they haven't won outside in bad weather -- it was in the 50s in Kansas City last week and their 17-14 late-November victory in Buffalo was played in uncharacteristic balmy temperatures for that time of the year.
They will get that chance this week.
"It's the wind as much the cold that can bother you," Brady said.
Copyright 2017 The Associated Press. All rights reserved. This material may not be published, broadcast, rewritten or redistributed. We strive to uphold our values for every story published.