Kansas football coach Mark Mangino might seem an unlikely keynote speaker at a banquet honoring the legacy of the Rev. Martin Luther King Jr., the slain civil rights leader.
After all, Mangino was raised in a working-class white family in a Pennsylvania steel town, a world away from places like Selma or Mobile, Ala., where King was helping to spark a movement to erase the division between blacks and whites.
But there Mangino was Saturday night: At the dais at the front of the Kansas Union Ballroom, addressing the audience at the Ecumenical Fellowship Inc. of Lawrence's annual King banquet celebration.
And Mangino described for his audience a picture that likely would have touched the heart of King. The Kansas football team, Mangino explained, was a microcosm of King's vision.
"I'm the luckiest guy in here," Mangino told the estimated 150 people in attendance. "Where can a kid from the inner city of St. Louis jump into the arms of a farm boy from western Kansas?"
Mangino told the assembly that he embraced King's words and ideals as a motivational tool for his players.
"He had a dream," Mangino said of King, "but he also had a plan to pursue that dream."
Mangino encouraged the audience members to, like King, be persistent in their beliefs and carry on his legacy to look past skin color and ethnic background.
"How many people believe so greatly in something they'd be willing to die for it?" he asked the audience. "Martin Luther King Jr. was willing to die."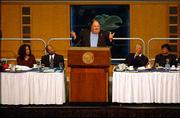 The banquet, which observed its 19th year Saturday, kicked off a series of events in Lawrence honoring King and celebrating his holiday. In addition to Mangino, church and civic leaders from across the area expressed their thoughts on the slain civil rights leader's impact.
"It's a legacy that everyone should be concerned with," said the Rev. William Dulin, pastor at Calvary Church of God in Christ and president of Ecumenical Fellowship Inc.
The banquet's master of ceremonies, the Rev. Verdell Taylor, pastor at St. Luke A.M.E. Church, presented Climetine Clayburn, principal at Kennedy School, with a plaque honoring her lasting contributions to the advancement of children and education.
Five scholarships were awarded to local high school students planning to attend college.
Two $100 scholarships were given to Sarah Guerich and Brianca Patton. Nelly Gatotho was the recipient of the Lawrence Association of Evangelicals $500 scholarship. Cherrale Ricks and Aphton Riley received Martin Luther King Jr. $500 scholarships.
"It's your generation that will have to finish the work of Dr. King," Mangino told the scholarship winners. "It is a burden, but a burden you will love."
Celebrations in Lawrence for the Martin Luther King Jr. holiday continue today with a musical at 6:30 p.m. at Free Methodist Church, 3001 Lawrence Ave. A commemorative service featuring Lisa Miree, Miss Black USA, and various community speakers will be at 11:15 a.m. Monday at the Lied Center on Kansas University's west campus. Both events are free and open to the public.
Copyright 2017 The Lawrence Journal-World. All rights reserved. This material may not be published, broadcast, rewritten or redistributed. We strive to uphold our values for every story published.