Some police officers' body armor might be giving them a false sense of security.
A popular brand of bullet-resistant vests used by police statewide may deteriorate more quickly than expected, leaving officers vulnerable to a bullet, Kansas Atty. Gen. Phill Kline said this week.
Lawrence-area police and sheriff's deputies, who have bought dozens of the vests in recent years, said they had known about the problems and had been working with suppliers to fix it.
"From everything that I know and understand about it ... everybody is being overly cautious," said Deputy Tom Wood, who handles purchasing for the Douglas County Sheriff's Office.
Wood said sheriff's officials learned from a distributor a few months ago that certain models of Second Chance-brand vests, which are made with a lightweight fiber called Zylon, lose their strength sooner than they should.
In September, Michigan-based Second Chance discontinued two models of its vests, the Ultima and Ultimax, and offered free upgrades or discounted, Zylon-free replacements to customers who had bought them.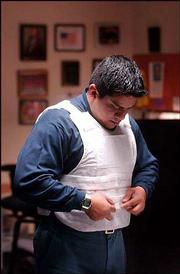 The changes came after a bullet penetrated a Second Chance vest made of Zylon and seriously injured a police officer in Forest Hills, Pa. The National Institute of Justice, which sets standards for bulletproof vests and had approved the vests in question, is reviewing two other shootings in Oceanside, Calif., and Montana's Ravalli County.
Controversy continues about whether it's the fault of the vest company or Japan-based Toyobo, the company that makes Zylon. Some of Second Chance's competitors have pointed out that their Zylon vests hadn't had problems.
The Douglas County Sheriff's Office has 19 of the vests in question. Wood said the department opted to keep them and receive free inserts from Second Chance to strengthen them.
About 26 of the Lawrence Police Department's 138 officers have been using the vests, said Lt. David Cobb, a police spokesman. Those officers are waiting for their replacements or upgrades to arrive.
Copyright 2018 The Lawrence Journal-World. All rights reserved. This material may not be published, broadcast, rewritten or redistributed. We strive to uphold our values for every story published.