Dennis Sander is somewhat of an expert on the Le Mans 24-hour auto race.
Sander has been a fan for years, but the Kansas University associate professor of architecture and urban design began researching everything about the race in March 2003 to prepare a design program for his third-year architecture students in the fall.
Now he's hoping the resulting plan -- a 22-foot-long, 1,000-pound wooden model, complete with 73 miniature race cars -- will be built at Le Mans, France, after he shows the design to members of the auto club that organizes the famed race every summer.
"This is the most glorious kind of racing there is," Sander said of Le Mans.
Most Americans are familiar with the Daytona 500 and the Indianapolis 500, but for true aficionados, Sander said the 8 1/2-mile circuit in Pays de la Loire, France, was the gold standard of automobile racing.
Each year during race week, 300,000 people from around the world gather to watch drivers in Audis, Bentleys and Ferraris tear around the winding track. With the exception of one year in the mid-1930s and much of the 1940s, the race has been run annually since 1923.
A KU professor for 24 years, Sander said he had long had a "dual love" for architecture and racing. In college, he started a sports car club for those who shared his interest.
"I was a weekend racer before I had kids," Sander said.
It seemed natural to share his interest with KU architecture students.
Beginning last fall, Sander's 16 students studied the Le Mans site with the help of maps, photographs and videos, including the 1971 film "Le Mans," which starred Steve McQueen as a race car driver.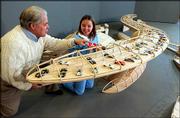 "I think the kids had a lot of fun working on this project," Sander said.
Before Thanksgiving break, each student constructed a model of the museum. When the break ended, Sander and his class began work on his design.
The proposed museum would be a haven for fans of Le Mans. Its 400,000 square feet would include two IMAX theaters, an eight-plex movie theater, a multimedia gallery, a memorabilia room and a serpentine track where visitors could view winning cars from the past.
Sander said he and his students put in nearly 1,200 hours building the final model.
"This is one of the largest projects I've ever worked on," he said.
While the car museum may have been a natural for Sander, it seemed a bit unusual at first to some of his students.
Bill Bourne, a senior who helped with the project, said some of his classmates were skeptical of the car-focused plan.
"I just went in thinking about the architectural design of a museum," Bourne said.
But designing the building turned out to be one of the most intense programs he ever worked on, Bourne said. The project's size, the amount of research it required and the collaboration of the class gave him confidence as a designer, he said.
"We attacked this project like it was really going to be built," Bourne said.
One of the goals of the KU school of architecture is for professors to give students real projects or created projects similar to what they could face in their careers, said Bill Carswell, chairman of the school.
"We are trying to prepare students by echoing the professional experience," he said.
Sander said he was proud of the work he and he students did. Now, he must finish a few more drawings and photographs of the model before it can be presented to the Le Mans auto club this summer.
Sander said the model itself would remain in Lawrence because it is too large to send to France and might not survive the trip.
Copyright 2018 The Lawrence Journal-World. All rights reserved. This material may not be published, broadcast, rewritten or redistributed. We strive to uphold our values for every story published.