Lyle is about to take a bath and stretch his legs.
The 150-million-year-old, 60-foot-long camarasaur will be prepared for public exhibition later this year, thanks to a new partnership between the Kansas University Natural History Museum and Science City at Union Station.
But the dinosaur -- and potentially others in the future -- will be displayed at the museum in Kansas City, Mo., not in Lawrence. That's because the university doesn't have space to display its dinosaurs, and a fund-raising campaign to build a new dinosaur museum has come up empty.
"I personally think the town of Lawrence is missing out on a golden opportunity," said Larry Martin, curator of vertebrate paleontology at the KU museum. "We could have a big dinosaur draw. We have the capability of putting in one of the most spectacular dinosaur exhibits in the whole world."
Officials from KU and Science City were to formally announce their new partnership during a news conference today at Union Station.
Their first joint effort will be a laboratory at the museum that will show fossils being prepared for display. It will be staffed by paleontologists from KU and probably will be in place later this year.
"This is an extraordinary opportunity for Union Station and Science City," said Turner White, Science City's CEO. "It is a win-win situation for both organizations with the real beneficiaries being the students, children and adults who can learn about early Earth and life science in an enjoyable setting at Science City."
Leonard Krishtalka, director of the Natural History Museum, said the partnership would be "a terrific way to advertise the terrific collections we have."
"It's an opportunity to reach an enormous audience in the Kansas City and regional area," he said. "We can show one of the many reasons why KU is the research university for the region."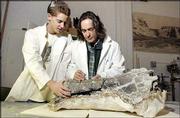 After Lyle is completed and put on display at Science City, other dinosaurs and exhibits could be prepared at the lab, Krishtalka said.
Although the exhibits will be in Kansas City, Krishtalka said he hadn't abandoned hopes of getting them on display at KU, an idea that has been floated for several years.
"This is in no way a substitute for eventually displaying these in a new museum on campus," Krishtalka said. "That's still a goal. But in the interim, until that's a reality, there's no reason the people of the Kansas City area can't enjoy the fruits of the research that's going on here."
Goals for the KU First capital campaign under way at the KU Endowment Association include $15 million for such a museum, but Dale Seuferling, the association's president, said it hadn't been funded yet.
"It's one of the projects that's still a KU First objective," he said. "Maybe (the Science City exhibit) will inspire someone to say, 'I'd like to see that on a larger scale.'"
Martin, the paleontologist, said he was convinced that people would drive from other states to see KU's dinosaur exhibit -- if the giant lizards were on display in one place.
Now, half of one camarasaur -- nicknamed "Anabelle" -- is on display at the Natural History Museum in a crouching position because the ceiling isn't tall enough for her to stand.
Martin said KU had four sauropods -- the family that includes camarasaurs -- and has access to at least two more at a quarry in Wyoming. He said KU could display between 12 and 15 dinosaurs if it had the space.
"If you had a big hall and could get all of them together, you could have one of the most spectacular exhibits in the world," he said. "People would take trips from Chicago to see it."
Copyright 2018 The Lawrence Journal-World. All rights reserved. This material may not be published, broadcast, rewritten or redistributed. We strive to uphold our values for every story published.