It wasn't chaos, but Haskell Indian Nation's University's men's basketball squad went a little crazy Monday night at Coffin Sports Complex.
Fans screamed, players grinned. And then there was HINU coach Jamie Morrison, who wasn't about to give away the game ball his team had just presented him after its 86-82 victory over No. 21-ranked Friends University.
"It's huge," Morrison said, almost in disbelief.
But that's the kind of response you get when your team hasn't won since Nov. 8.
"It's almost indescribable," said HINU guard Corey Ladson, who tallied a team-high 24 points and 11 rebounds. "It seems like an eternity since we won that first one."
Yet the Indians needed luck Monday, surviving what became a free-throw shooting contest when the two teams combined to commit 62 fouls.
Haskell got its break with 2:10 left in the game.
Down one, HINU guard Chad Kaler drove the lane and put up a contested shot against 6-foot-7 Falcon Steve Rausch.
Kaler's acrobatic floater fell, and his ensuing free throw put the Indians ahead for good.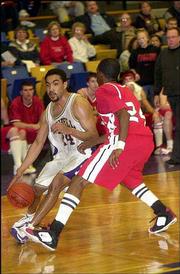 "I don't know how that went in," Kaler said. "It was almost like it was fate that we were going to win this one."
The Indians led a majority of Monday's back-and-forth contest.
No HINU player could stop Friends' Stephan Pittman, who had game highs in points (33) and rebounds (14), but in the end, Haskell didn't have to.
Including Kaler's confidence-building three-point play, the Indians closed the game with a 10-0 run. All 10 points were scored by HINU's four double-digit scorers Monday, including 17 by Kaler, 16 by Andy Deal and 11 by Jazz Parker.
While momentum might be short-lived considering the Indians have to play Friday at No. 18 Bellevue (Neb.), Kaler said the confidence his teammates showed Monday was indicative of the pride HINU had played with all season.
"Being 1-11 at the break is hard to swallow," said Kaler, whose team was playing its first game of the month. "We just promised each other that whatever it is we could do to get this thing turned around, we would do it.
"We got a lot to work on still, but this is definitely a great start for the rest of the season."
Copyright 2018 The Lawrence Journal-World. All rights reserved. This material may not be published, broadcast, rewritten or redistributed. We strive to uphold our values for every story published.