LINCOLN, NEB. — Nebraska went outside the family to hire its new head football coach, and Bill Callahan says he is keenly aware of what is expected of him.
"Winning the national championship -- that goal will never change," Callahan said Friday as he was introduced as coach. "The aspiration to measure up to the legacy of the previous success here is critical. When I met the players today, I felt that they wanted to do that again."
The former Oakland Raiders coach agreed to a six-year contract that pays a base salary of $325,000. His total annual package is worth $1.5 million.
Callahan, fired by the Raiders last week after a 4-12 season, said he always had wanted to return to the college game. From 1980 to 1994, Callahan was an assistant at Illinois, Northern Arizona, Southern Illinois and Wisconsin.
Callahan inherits a program that has won only 16 of its last 28 games, including a 2002 season that saw the Huskers go 7-7, their worst record in 41 years.
NU athletic director StevePederson said Callahan didn't blink when they discussed the expectations.
"If you're afraid to play for the championship, that's a tough way to go through life," Pederson said. "We're going to continue to strive to be at the top of college football. At Nebraska, that's the way it should be."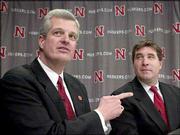 Callahan promised to bring a new look to Nebraska's offense. Since 1980, the Huskers have operated out of a ground-oriented, option attack.
Callahan said he would unveil the West Coast offense, which typically features a short, controlled passing game.
Callahan said he planned to meet with the current staff Monday and would decide quickly whether to retain any or all the assistants.
"I'm excited about having coach Callahan. I'm just excited to have a coach again," offensive lineman Mike Erickson said. "They kept their promise to tell the players about this first. I'm pleased with the way it was handled."
Copyright 2018 The Associated Press. All rights reserved. This material may not be published, broadcast, rewritten or redistributed. We strive to uphold our values for every story published.