Bam, Iran — Most of the 30 circular guard towers have crumbled into avalanches of dirt, along with parts of the thick, mud-brick walls. The bathhouses, gymnasiums and a Zoroastrian temple that survived for centuries now resemble a moonscape.
The earthquake that killed nearly a third of this Iranian city's people last week also devastated its archaeological jewel -- the Arg-e-Bam, or Citadel of Bam, the world's largest mud-brick fortress, parts of which date back 2,200 years.
But even as aftershocks send more of its walls crashing down, Iran's government is vowing to rebuild it.
"The citadel was almost as precious as the lives lost in the earthquake," Fakoor Pass, director of cultural heritage for Kerman province where Bam is located, said Friday. Officials are "100 percent sure we will" rebuild it.
More than 30,000 people are believed to have died in the 6.6-magnitude temblor that struck before dawn Dec. 26, burying thousands alive as they slept.
Much of the historic citadel on the outskirts of the modern city collapsed like a sand castle.
The citadel, which covered about 2 1/2 square miles, was made up of a looming fortress on a rocky hilltop and the ancient town, encircled by walls standing 80 feet tall in some spots. Along the walls were the circular watchtowers, with slits for archers, and gates with peaked archways.
The structures were all built of sun-baked bricks and straw -- which under the quake's punishment were reduced to dirt that avalanched down the hill's slopes.
The site is said to have had a citadel city since 250 B.C. but it was rebuilt continually through the centuries. Most of the structures seen by modern-day tourists were thought to range in age from a few hundreds years to perhaps 1,000 years.
The U.N. cultural agency, UNESCO -- which had considered declaring the citadel a protected World Heritage Site -- has offered to help reconstruct the fortress, and its officials will visit it today, Pass said.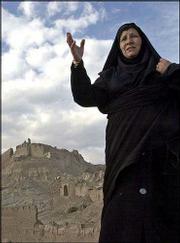 Copyright 2018 The Associated Press. All rights reserved. This material may not be published, broadcast, rewritten or redistributed. We strive to uphold our values for every story published.