The Rev. Thad Holcombe's vocation -- his sense of a calling in life -- is to help college students discern one of their own.
And he's extremely good at it, according to his colleagues in campus ministry at Kansas University, as well as the young people he works with at Ecumenical Christian Ministries, 1204 Oread Drive.
So good, in fact, that Holcombe was one of only eight campus pastors in the country to be asked to participate in a yearlong project to cultivate the ideas and practice of vocation in the lives of university students.
"I think it's really crucial. Everyone, regardless of faith persuasion, has gifts, joys and talents that can be used not only through their careers or jobs, but also in the totality of their lives to support the public good," said Holcombe, campus pastor at ECM.
"I am excited. I think this is something that needs to be a part of campus ministry -- vocation as an area of emphasis."
Holcombe, who came to ECM in 1991, spent Monday and Tuesday at Emory University in Atlanta as a participant in the initial consultation of the Campus Ministry and Vocation Project.
The project is funded by the Indianapolis-based Lilly Endowment, a private, philanthropic organization, through the Fund for Theological Education.
This represents the first gathering of religious leaders from public and private, nonchurch-related universities in the United States.
ECM, through Holcombe's participation, also has received a $2,000 grant to use in implementing a pilot project in the summer and fall of 2004 -- discussing vocation discernment with undergraduates and graduates -- and to reconvene in spring 2005 to present what has been learned.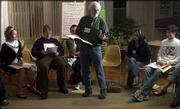 ECM is a KU campus ministry of the Presbyterian Church (USA), United Church of Christ, Church of the Brethren, Quaker denominations and six Lawrence area congregations.
Enhancing ECM programs
The concept of vocation is something that Holcombe, 63, has spent years thinking about.
"It's a tradition that there is within a person a calling, and one can discern within themselves a voice (that leads one to ask), 'Given the joys that I have and can discern, how do I best live out a life of gratitude?' Religiously speaking, it means 'a calling from God,'" he said.
Further defining his own understanding of vocation, Holcombe referred to a famous quotation from the writer Frederick Buechner.
"It is in listening to what I understand as true and valuable that I can discern 'the place where your deep gladness and the world's deep hunger meet,'" he said.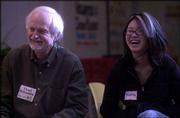 That idea has been one of ECM's guiding principles, along with a focus on hospitality, environmental and social awareness, connecting faith and spiritual understandings, cross-cultural and racial awareness and an understanding of sexuality.
Developing the concept of vocation plays out in different ways at ECM, Holcombe said.
For instance, the theme of ECM's alternative spring break March 20-27 in New Mexico is "What Do I Want My Life to Say? A Cross-Cultural Volunteer Experience."
Twenty-six people have signed up to go on the spring break trip.
"We can use the $2,000 grant to enhance what we already have here. I think I know where we want to go," Holcombe said.
He has been involved in campus ministry since 1967, when he was at the University of Tulsa. Holcombe served as president of the National Campus Ministry Assn. -- a professional organization of campus ministers in North America -- in 1990 and 1991.
Holcombe was nominated to participate in the vocation project in Atlanta by the United Church of Christ and the Presbyterian Church.
Recognition overdue
Holcombe's colleagues and KU students he works with said he was an excellent choice to join the small group of campus pastors.
"I think it's great (he was selected). I think it speaks volumes about how he is running ECM -- exactly as it should be. His two main focuses are hospitality and the discernment of vocation for young people," said Jolinda Matthews, administrative assistant at ECM.
The result of his efforts is readily apparent, according to the Rev. Emilee Whitehurst, associate pastor of adult education and campus ministry at First Presbyterian Church, 2415 Clinton Parkway.
"Anybody who enters the building feels welcomed and encouraged to explore their deepest passions. Thad has a great sense of humor, is an extremely attentive listener and is one of those people you can say anything to. That's one of the reasons he's such a good campus pastor: You never feel judged," she said.
Holcombe has touched the lives of many KU students, just by interacting with them genuinely.
"I think he's helped a lot of people come back to faith who wouldn't have been able to do so in a more traditional or structured setting. I think it's about time that he got some recognition for all that he does," said Liz Franklin, 20, a KU senior from Cedar Falls, Iowa.
Holcombe said he knew he was in the right job, helping others find an authentic direction for their lives.
"I wake up every morning excited about that," he said.
Copyright 2018 The Lawrence Journal-World. All rights reserved. This material may not be published, broadcast, rewritten or redistributed. We strive to uphold our values for every story published.