Washington — "Gilbert!" yelled Kwame Brown across the Washington Wizards' locker room. "Curse me out before you leave. Please."
Laughter erupted, the feud between the two players suddenly not so tense after the Wizards converted it into a two-game winning streak.
One night after staging a mini-mutiny on offense, Gilbert Arenas set aside his tiff with Brown and earned his second career triple-double to lead the Wizards to Thursday night's 95-87 victory over the Chicago Bulls.
"Whatever y'all are doing, keep it going, because he's playing like an All-Star now," Brown told reporters. "Y'all made it drama. We said what we said, and it was the truth. And now guys are playing together. We've won two in a row."
Arenas scored 21 points, grabbed 12 rebounds and handed out 13 assists as the Wizards completed rare back-to-back victories. Arenas' first triple-double came earlier this season, a 25-12-10 effort against Dallas Nov. 5.
Wednesday, Arenas didn't attempt a shot until 5:30 remained in a two-point victory at Toronto -- and that was only after coach Eddie Jordan threatened to bench him.
Arenas had been smarting from comments made Sunday by Brown, who accused an unnamed teammate of being too selfish with the ball. Arenas responded by criticizing Brown's play.
"I guess that's what we need, a little kick in the butt, huh?" said Arenas, whose matched a career high in rebounds and had a season-high in assists.
Added Brown: "That's how you play basketball. Everybody had a touch. We weren't standing there watching."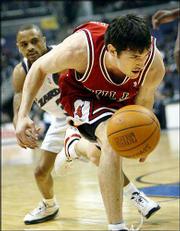 Mavericks 115, Spurs 91
Dallas -- Michael Finley opened the third quarter with a dunk and closed it with a swish from behind the halfcourt stripe, perfect bookends for a 46-point period that Dallas rode to a victory over San Antonio.
Finley shot 10-of-14, including 5-of-7 on three-pointers, for 30 points. Dirk Nowitzki added 23, helping the Mavs win their fourth straight and improve their league-best home record to 26-4.
Kings 103, Lakers 101
Los Angeles -- Mike Bibby made two three-pointers in the final 90 seconds to cap a 31-point performance as Sacramento defeated Los Angeles. Peja Stojakovic had 37 points and nine rebounds as the Kings won their fourth straight and eighth in nine games despite playing shorthanded. Bibby also had eight rebounds and seven assists.
A three-pointer by Bibby from the left corner gave Sacramento a 100-98 lead.
Copyright 2018 The Associated Press. All rights reserved. This material may not be published, broadcast, rewritten or redistributed. We strive to uphold our values for every story published.