Port-au-Prince, Haiti — Haiti's rebel leader said his fighters were advancing on the capital Thursday and awaited an order to attack unless President Jean-Bertrand Aristide resigns. The United States questioned whether Aristide could "effectively continue" in office.
With Haiti's ill-equipped police force not expected to put up much resistance against a rebel assault, government loyalists began building defenses in front of the National Palace in Port-au-Prince.
At a U.N. Security Council meeting on Haiti, Caribbean nations called for a multinational force to end the violence. But the United States and France said they wanted a political settlement first.
In Washington, Secretary of State Colin Powell openly questioned whether Aristide can continue to serve effectively as Haiti's leader -- the closest Powell has come to suggesting that Aristide bow out as president before his elected term ends in February 2006.
"Whether or not he is able to effectively continue as president is something he will have to examine carefully in the interests of the Haitian people," Powell said.
Powell's comments came a day after French Foreign Minister Dominique de Villepin called on Aristide to resign.
Earlier Thursday, Aristide said on CNN he would not quit. He said a small international force -- "a couple of dozen" soldiers or police -- could prompt the rebels to stand down. Referring to the rebels, he said: "At any time those terrorists may come to Port-au-Prince and kill thousands of people."
The insurgents have overrun half of the country since the rebellion began three weeks ago.
It was not known if Aristide was in the palace. A helicopter took off from the palace Thursday afternoon and Haiti's leader usually sleeps at his private estate in Tabarre, a satellite town on one road leading to the airport.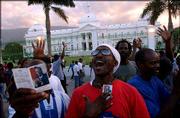 Copyright 2018 The Associated Press. All rights reserved. This material may not be published, broadcast, rewritten or redistributed. We strive to uphold our values for every story published.