Some spring break this turned out to be.
Oakland University's baseball team used its weeklong hiatus from academia to open its season with a four-game series against Kansas University.
The Grizzlies weren't allowed to indulge in booze and babes at the beach like many college students during spring break, and they're returning home with a big blue hangover -- and four losses -- courtesy of the Jayhawks.
For the second straight day, KU put up 17 runs and used the game as batting practice against Oakland's pitchers, winning 17-2 Thursday afternoon at Hoglund Ballpark.
"That's as good as we've played since I've been here," second-year KU coach Ritch Price said. "I was really pleased that they had their best arm on the mound, and he's supposed to throw 89-91 (mph).
"You saw the 10 to 12 pro scouts here to see him pitch, and we swung that bat as good as we could swing it. It was a tremendous performance."
Kansas' back-to-back 17-run efforts mark the first time the Jayhawks have scored 17 or more in two straight games since the 1993 squad beat Northwest Missouri State, 36-2, and then swept Chicago State 20-1, 17-0 and 25-2. That KU team went to the College World Series.
The Jayhawks smacked 22 hits -- the most ever under Price -- and sophomore shortstop Ritchie Price set a KU record with six hits a game.
"It's been a great series to finally let our club realize what can happen when one through nine contribute," said junior third baseman Travis Metcalf, whose fifth-inning grand slam blew the game open.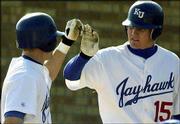 "It's great to get all of those hits, and it's a confidence booster for a lot of guys. This was a great series to get people back in high spirits."
The Jayhawks (12-7-1) expected to get a stiffer effort out of Oakland (0-4) following their 17-4 win on Wednesday, and that seemed to be the case initially.
Oakland held KU scoreless in the first inning, then took a 1-0 lead in the second when Bryan Marulli scored on Ryan Freiburger's ground ball. That ruffled the Jayhawks' feathers enough, and the onslaught began.
Matt Tribble stretched his hitting streak to 11 games when he blasted a solo homer in the bottom of the second that tied the game. Metcalf and Andy School hit back-to-back doubles, Travis Dunlap walked and Mike Dudley ripped a two-run double into the right-field gap. J.C. Sibley's sacrifice bunt allowed Dunlap to score, and Dudley scored on Price's single to right.
Tribble walked and scored in the third inning, and Metcalf's grand slam in the fourth pushed the lead to double digits.
KU improved to 5-0 at home this year. During that span it has outscored opponents 52-12 and hit .390 as a team (69-for-179). Runs have come easily for Kansas during that stretch, but Ritchie Price said the Jayhawks wouldn't take it for granted.
"I think it's beneficial," he said. "We played well. That's why we won by that many points."
For Ritch Price, playing well during the five-game winning streak has been a welcome sight. His team let leads slip away late twice against No. 4 Stanford last weekend, and he said he didn't want that to become a trend.
"I thought it was crucial," he said. "We had to come back and establish that we were not going to let that become a mindset or problem down the road where we'd find ways to lose late in games. We needed to play well and we needed to pitch well, and we did that."
Copyright 2018 The Lawrence Journal-World. All rights reserved. This material may not be published, broadcast, rewritten or redistributed. We strive to uphold our values for every story published.