New York — "Harry Potter" author J.K. Rowling and the founders of the Google search engine have landed on Forbes magazine's annual list of billionaires after a year when rallying stocks and a strong euro swelled the list to the longest it's ever been.
Microsoft co-founder Bill Gates remains perched atop the list for the 10th straight year but investor Warren Buffett is nipping at his heels. Gates' net worth is now estimated at $46.6 billion, still less than half the $100 billion it peaked at in 1998, but up about 13 percent from the $40.7 billion Forbes attributed to him in 2003.
Buffett wins the bragging rights for reaping the best gains of the year. He increased his net worth by $12.4 billion to $42.9 billion, significantly narrowing the gap between him and Gates, with whom he competes in bridge tournaments.
German supermarket magnate Karl Albrecht remained in third place, with a fortune of $23 billion. Close behind were Saudi Arabia's Prince Alwaleed Bin Talal Alsaud, whose $21.5 billion nest egg put him just ahead of Microsoft's other co-founder, Paul Allen, who came in fifth with $21 billion.
Rounding out the top 10 were Helen Walton, wife of the late Wal-Mart founder Sam Walton, and four members of her family. They were tied for sixth, with each worth an estimated $20 billion -- making for a Walton's mountain of money that's bigger than the holdings of Gates and Buffett combined.
All told, it was a fabulous year to be very rich.
The magazine counted some 587 billionaires around the world, up from 476 in 2003. Their total net worth jumped to $1.9 trillion from the $1.4 trillion the magazine counted in 2003.
"After two years of significantly falling fortunes, we really saw an uptick for just about everybody on the list," said Luisa Kroll, an associate editor at Forbes who oversaw the project.
The strength of the euro currency in comparison to the dollar helped launch 22 new billionaires to the list, for a total of 164 Europeans. Their net worth as a group surged 47 percent to $578 billion.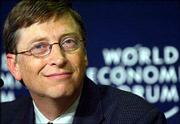 Rising oil prices helped Russia add eight new billionaires for a total of 25. That puts the country in third place, behind the United States and Germany.
In the United States, billionaires likely gained last year not only from a 20 percent rise in stock prices, but also from reductions in taxes on dividends, capital gains and estate taxes, according to Mark Zandi, chief economist at Economy.com.
"High income, high net-worth households have done very well under the Bush administration," said Zandi, adding that technological advances and trends toward globalization also tend to benefit the rich.
As usual, older, married men dominated the list, which includes only 53 women and 24 single people. The average billionaire's age is 64, and only 27 are under 40.
Only six people dropped off the list, compared with 67 who fell off in 2003 and 83 drop-offs in 2002, according to Kroll. One of the notable drop-offs this year was Robert Johnson, the founder of Black Entertainment Television, who lost some of his fortune in a divorce settlement.
There were 56 billionaires who returned to the list after dropping off it in the previous few years, including Yahoo! founders David Filo ($2.2 billion) and Jerry Yang ($1.9 billion).
Newcomers to the list included Rowling and Google founders Sergey Brin and Larry Page. All three debuted at No. 552 with $1 billion each. A number of billionaires share the same rank because Forbes reported their wealth as being the same.
Other newcomers included the Canadian creator of Cirque du Soleil, Guy Laliberte ($1.1 billion), and Hong Kong's Michael Ying ($1.8 billion), chairman and CEO of clothing company Esprit Holdings Ltd.
And there were three billionaires behind bars, including Russia's richest man, former Yukos oil chief Mikhail Khodorkovsy ($15 billion), as well as Yukos shareholder Platon Lebedev ($1.8 billion) and Japanese tycoon Yasuo Takei ($6.2 billion.)
Copyright 2018 The Associated Press. All rights reserved. This material may not be published, broadcast, rewritten or redistributed. We strive to uphold our values for every story published.