Not long after he became a paramedic in 1982, Rob Kort was called to help a Kansas University student who had fallen off a bike and hit his head on a street curb.
"One of the symptoms of a bad head injury is projectile vomiting," said Kort, now a division chief for Lawrence-Douglas County Fire & Medical. "I was a new paramedic -- I hadn't seen anything like that before."
He added: "When I got off work that morning, I went and bought a helmet."
Kort's choice soon could become the requirement for Lawrence youngsters.
The Lawrence City Commission on Tuesday will consider an ordinance that would require bicyclists and skaters under 15 to wear helmets. But there would be no penalty for noncompliance.
Instead, violators would be given a coupon redeemable for a free bike helmet from a city-run program.
"It was our desire not to be punitive," said Assistant City Manager Dave Corliss. "We're trying to be innovative."
The city has given away more than 9,000 helmets since 1996, under a program sponsored largely by the Laird Noller automobile dealership. Stephens Real Estate, State Farm Insurance, Lawrence Memorial Hospital and the Kansas Department of Transportation also have helped in recent years.
Kort said research showed that use of helmets reduced the risk of head injuries by 88 percent. And national research shows roughly half of all youngsters would wear a helmet when bicycling -- as long as their peers were required to do so, too.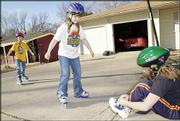 "There's pretty solid statistical evidence that bike helmets save kids' lives," said Commissioner Boog Highberger. "This (ordinance) is intended as a gentle way to encourage helmet-wearing among our young people."
He added: "It might save a few broken jaws in the hospital."
Without a penalty, the law might seem meaningless, but Corliss said, "As a practical matter, we'll have law enforcement officers talking to kids, instructing them they can't ride without a helmet."
Kort hopes the proposed ordinance will make a difference.
"I've been doing this 22 years," he said. "I've seen countless kids (put) on helicopters to KU (Hospital) because of head injuries."
The commission meets at 6:35 p.m. Tuesday in City Hall, Sixth and Massachusetts streets.
Copyright 2018 The Lawrence Journal-World. All rights reserved. This material may not be published, broadcast, rewritten or redistributed. We strive to uphold our values for every story published.