STILLWATER, OKLA. — Joey Graham had a career game at just the right time for Oklahoma State.
Graham scored 30 of his career-high 36 points after halftime, and No. 7 Oklahoma State made seven of eight free throws in overtime to stave off Nebraska, 87-83, Saturday night.
Oklahoma State (21-2, 11-1 Big 12 Conference) won its 11th straight and remained in first place in the league.
"I told him and the team that I thought it was one of the best individual performances at Gallagher Iba (Arena) in a long time," Cowboys' coach Eddie Sutton said.
Graham made three of his four free throws, and Ivan McFarlin made four more in overtime. The Cowboys also were 7-of-9 from the line in the final 2:23 of regulation.
"I do not think I have ever had a hot streak like that," said Graham, who was 12-for-19 from the floor and 9-of-11 from the line. "I was just feeling it tonight."
Andrew Drevo led Nebraska (14-9, 4-8) with 21 points on 8-for-10 shooting, and Nate Johnson had 18.
Graham, whose previous high was 21 in a win over Texas on Jan. 24, hit two free throws with 1:28 left in overtime to put the Cowboys ahead for good at 84-83.
They came after Graham and Nebraska's Marcus Neal traded three-pointers to tie it at 79.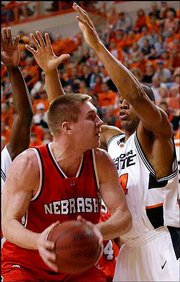 Johnson was fouled by Daniel Bobik on a reverse layup with six seconds left in regulation. He sank the free throw for the three-point play to tie it at 74. John Lucas missed a three-point attempt, and Tony Allen's putback failed as time expired.
"I can't even explain it because I didn't even know it even went in," Johnson said. "I just threw it up, and it happened to go in."
That culminated a wild final minute of regulation that saw Lucas hit a three-pointer with 22 seconds left to put Oklahoma State up 73-68. Neal answered with a three with 16 seconds left to make it 73-71.
"We feel like we have been drug through a knothole," Nebraska coach Barry Collier said.
Oklahoma State pulled ahead 52-44 for its largest lead on Graham's three with 10:13 left, topping a 7-1 run. But the Cornhuskers came back to lead 57-56 on Brian Conklin's layup that capped a 13-4 run with 6:29 remaining.
"I thought defensively we didn't maintain dribble penetration as well as we should have, but they hit some tough shots," Sutton said.
Copyright 2018 The Associated Press. All rights reserved. This material may not be published, broadcast, rewritten or redistributed. We strive to uphold our values for every story published.