Kansas University's women had a chance to put some distance between themselves and the Big 12 Conference basketball cellar Saturday night at Allen Fieldhouse.
The Jayhawks fell a little deeper instead.
Last-place Texas A&M; (8-17 overall, 2-12 league) rallied from a nine-point, second-half deficit and pulled out a 69-63 victory over KU (9-15, 2-11).
"We felt like we should have won this game," KU interim coach Lynette Woodard said. "We could have won this game. We did all the right things. We played for 40 minutes -- finally. We usually can put 32, 33 minutes together. There was a stretch there where he had point-blank layups, we missed free throws, we lost a couple of defensive assignments, and we got punished for it."
A&M; was within 34-32 early in the second half before the Aggies suffered through a 5:22 drought without a field goal. Kansas hurt A&M; in transition as Sharita Smith, Crystal Kemp and Larisha Graves scored easy buckets in a 6-0 run that put KU up 42-34.
The Jayhawks took their biggest lead -- 44-35 --when post player Tamara Ransburg scored on an in-bounds play with 12:38 remaining.
Guard Erica Roy then ended A&M;'s drought with a field goal at the other end.
KU's offensive troubles were just beginning. Kansas went 71/2 minutes without a field goal, and A&M; surged back with an 11-2 run. Ransburg and guard Erica Hallman both missed the front ends of one-and-one opportunities after the Aggies had closed within two points.
"We couldn't have gotten any closer than we got -- layups, free throws. It was all there for us," Woodard said. "We got what we wanted. We even executed our offense. We got the ball where we wanted. We had it in the posts' hands. We just couldn't convert."
Graves ended KU's slump with a jumper at 5:08 that put KU back on top -- for the last time -- at 53-51. Forward Tamea Scales tied it at the other end, and backup guard Mindy Garrison widened the gap to 59-55 when she hit three-pointers on consecutive possessions.
"Defensively we were rushing out at them and overplaying them," Kemp said. "Unfortunately, they hit a couple of threes."
The Jayhawks still had a chance after forward Aquanita Burras made one of two free throws with 1:08 to play, cutting the lead to 65-63.
Aggie guard Toccara Williams then missed a shot with 44 seconds left. Graves grabbed the rebound, but she lost control, and Williams came up with the loose ball.
"We lost our focus at the end," Burras said.
Williams, who led all players with 21 points, made all four of her free-throw attempts in the final 25 seconds to seal the victory.
The senior point guard scored nine points in the game's first five minutes, but Williams didn't score again until she made a free throw a 15:06 remaining. Her next basket, which tied the game at 48, came with 7:46 remaining. She was big down the stretch, scoring eight of A&M;'s last 10 points during the final 2:48.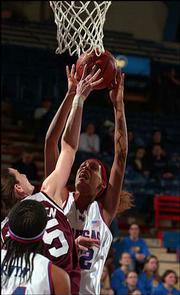 Scales finished with 11 points and eight rebounds for A&M;, and forward Lynn Classen added 10 points.
A&M; snapped a four-game losing streak and won for just the second time in 14 games. The Aggies shot just 39.4 percent from the field (26 of 66), but Kansas was worse at 34.5 percent (20 of 58).
"We have to focus on our defense," Burras said. "We have to pressure the ball. That's what we know we can do to stay in games and keep scores low."
Ransburg, who declined to be interviewed, led Kansas with 15 points, 10 rebounds and four blocked shots. It was the sophomore's third consecutive double-figure scoring game since being taken out of the starting lineup.
Kemp also had a double-double with 13 points and 10 rebounds. Graves added 12 points.
Kansas, which will try to avoid its second last-place finish in three years, wraps up the conference season against Colorado, Nebraska and Iowa State, while A&M; finishes with Baylor and Missouri.
The Jayhawks, who have lost six straight and 11 of 12, play CU at 8 p.m. Tuesday at Boulder, Colo.
"We just have to keep our heads up and keep fighting," Kemp said.
Copyright 2018 The Lawrence Journal-World. All rights reserved. This material may not be published, broadcast, rewritten or redistributed. We strive to uphold our values for every story published.