San Francisco — After sanctioning more than 2,800 gay marriages in the past week, the city sued the state of California on Thursday, challenging its ban on same-sex marriages on constitutional grounds.
Two judges already are considering challenges from conservative groups seeking to halt the marriage spree that began last Thursday. The city's lawsuit, filed late Thursday afternoon, asks that those cases be consolidated into one.
"The city and county of San Francisco is going on the offensive today to protect the mayor's action" allowing gay marriage, City Atty. Dennis Herrera said.
Mayor Gavin Newsom said he didn't regret giving out marriage licenses before the city filed a legal challenge to the state's marriage laws, but added he was glad the question was now in the courts.
"I think what we have done is affirm marriage here in San Francisco," Newsom said. "We affirmed it because we are celebrating people coming together in their unions. I feel affirmed as a married man by what's happened here in San Francisco."
A lawyer for a group trying to halt the gay marriages described the city's move as a delaying tactic.
"This is as much a maneuver to keep this in court and keep the issue alive as it is anything else," said Benjamin Bull, an attorney with the Alliance Defense Fund.
Gov. Arnold Schwarzenegger said San Francisco's same-sex marriage licenses "fail to meet legal standards."
"The attorney general has assured me that he will vigorously defend the constitutionality of the law" barring gay marriage, Schwarzenegger said.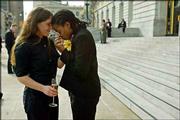 Yet some conservative groups felt Schwarzenegger was being too timid.
"A real terminator would end the anarchy by enforcing the law he swore an oath to uphold," said Jan LaRue, chief counsel for Concerned Women for America. LaRue's organization said the Justice Department and California officials should consider launching criminal proceedings against the San Francisco mayor and his staff for performing illegal marriages.
The city is asking Superior Court Judge James Warren to declare unconstitutional three sections of the California Family Code that define marriage as a union between a man and a woman.
City officials want the judge to determine if barring same-sex couples from marrying violates the equal protection and due process clauses of the state constitution.
Copyright 2018 The Associated Press. All rights reserved. This material may not be published, broadcast, rewritten or redistributed. We strive to uphold our values for every story published.