Green Bay, Wis. — The last chance to stall Sen. John Kerry's swift drive for the Democratic presidential nomination comes today when voters in this reform-minded but economically troubled state head to the polls in what is expected to be record numbers.
This is also likely to be a final battleground for either Sen. John Edwards of North Carolina or Howard Dean of Vermont, who have struggled to emerge as alternatives to the Massachusetts senator before Super Tuesday, the March 2 slate of 10 primaries from New York to California.
Edwards vows a "one-on-one race" with Kerry in the early March contests. But in Wisconsin, where any registered voter is eligible to participate, today likely will mark the end of a tortuous road for Dean.
"It's probably headed for another big Kerry victory," said Tom Holbrook, professor of political science at the University of Wisconsin-Milwaukee.
After today, he said: "It will be a two-man race in the sense that Edwards is the viable alternative to Kerry." But "it could be that this is the nail in the Dean coffin."
Indeed, on the eve of what Dean has termed his most critical primary, his national campaign chairman, Steve Grossman, has thrown his support to Kerry.
Both Edwards and Dean are counting on the independence of an immigrant-built state with a legacy for far-reaching reform to spur their last-gasp campaigns.
Yet if polling is any indicator, Kerry is likely to overwhelm his last two serious rivals in this state -- the last in a string of early primaries where candidates could concentrate on a single state.
Kerry, who campaigned Monday in snowbound Green Bay with fellow Massachusetts Sen. Ted Kennedy, is favored among 47 percent of likely Wisconsin voters, a Zogby International poll Monday showed, followed by Dean at 23 percent and Edwards at 20.
Yet Edwards is the one who drew attention in the closing days, winning endorsements of leading newspapers including the Milwaukee Journal Sentinel on Monday and spending more on TV ads here than Kerry or Dean.
However, a strong showing by either Kerry rival won't carry anyone very far. The campaign to win the 10 Super Tuesday contests will be fought with television ads, and Kerry is the only candidate with big money to air them.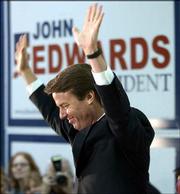 "You fight against the calendar, no question," Edwards said. "My responsibility is to make Democratic primary voters understand there is a choice."
Larry Smith, a state worker in Madison weighing a choice between Kerry and Edwards, suggests that many of the 1.6 million voters expected today will go with a "winner."
"I'm wondering how many people will be voting their personal choices and how many people will be voting a strategic choice," he said. "I'm wondering how many people are voting for Kerry because 'he's the guy."'
The impression that Kerry is the guy to beat is enhanced by a poll portraying the decorated Vietnam War veteran-turned-war protester as a potent rival for Bush.
The latest ABC News/Washington Post poll, showing declining public confidence in the president's handling of the economy at home and war in Iraq, shows Kerry favored among 52 percent of Americans, and Bush at 43 percent.
Copyright 2018 The Lawrence Journal-World. All rights reserved. This material may not be published, broadcast, rewritten or redistributed. We strive to uphold our values for every story published.