San Francisco — Demand for same-sex marriage licenses has been so great that on Sunday officials turned away hundreds of gay and lesbian couples lined up outside City Hall, saying they simply didn't have the time or resources to meet all the requests.
San Francisco authorities calculated they could process 400 licenses during special weekend hours -- but on Saturday they granted 600 licenses and performed 270 weddings by late afternoon. Then officials gave numbers to 320 couples securing them places in line for Sunday.
After quickly distributing an additional 80 numbers Sunday morning, disappointed couples lined up around the block were asked to return today.
"We're at capacity right now," said Mabel Teng, the official who oversees marriage licenses for city government. "We normally do about 20-30 couples a day. We're doing about 50-60 an hour."
Rich Walker and Brad Chilcoat were among the luckier ones. They stood in line for hours Saturday and left with a number that allowed them to walk into City Hall on Sunday morning to exchange their vows.
Walker, 50, and Chilcoat, 41, who have owned a home together in San Francisco for the last three and a half years, walked hand in hand through the buzzing corridors of City Hall, smiling and joking with friends who came to witness their official ceremony.
They privately exchanged rings on the beach last fall, but Sunday's ceremony "feels different," Walker said.
Chilcoat said the marriage certificate "moves us from second-class citizens to equal status."
In a controversial challenge to both legal and social convention, San Francisco officials began issuing same-sex licenses and officiating marriages Thursday at City Hall.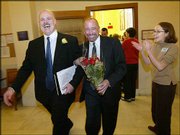 Outside City Hall on Sunday, about a dozen people across the street held signs to protest the same-sex marriages.
The decision prompted two conservative groups to press for court intervention. But on Friday a judge allowed the weddings to continue.
The issue returns to court Tuesday, when judges will hear separate requests from advocates of traditional marriage to void the licenses and order the city to stop giving them out.
The two organizations argue that the licenses violate state law, which defines marriage as the union of a man and a woman. San Francisco officials counter that they are legally binding documents that take a swipe at discrimination against same-sex couples.
Copyright 2018 The Associated Press. All rights reserved. This material may not be published, broadcast, rewritten or redistributed. We strive to uphold our values for every story published.