As a father, Jeff Webb is in favor of banning smoking in Lawrence's restaurants and bars.
But "as a business owner, it would be suicide," he said last week, unless the ban were universally implemented across the city -- or the state.
Webb, who owns the smoker-friendly Jefferson's Restaurant, 743 Mass., and others like him are caught in the midst of a fierce debate about whether to prohibit smoking in some public places.
It's a debate that pits bar and restaurant owners and patrons against health and clean-air advocates. Supporters of a ban say it's a health issue to protect employees from secondhand smoke. But opponents say smoking is a matter of choice.
Members of the Clean Air Lawrence group and others are pressuring the Lawrence City Commission to draft an ordinance banning smoking in workplaces -- which essentially would snuff smoking in bars and restaurants. The City Commission created a task force in April to study the issue, and commissioners will meet in late March with the 4-month-old Clean Air Lawrence group to discuss it.
Business concerns
But some restaurant owners, such as Webb, worry a ban that applies only to some businesses would drive away people who smoke.
Rob Farha, who owns the smoke-free Bella Lounge, 925 Iowa, and The Wheel Cafe, a smoker-friendly bar at 507 W. 14th St., said customers simply have not supported Bella Lounge as strongly as he had hoped.
"I don't think a municipality should put a ban on something that's all about choice," Farha said. "So why is an ordinance needed when there are choices for people to go to nonsmoking venues that they aren't supporting wholeheartedly?"
At Marisco's Grill & Bar, 4821 W. Sixth St., customers reacted positively to a smoking ban, general manager Fee Monshizadeh said.
"Even our smoking guests we get here are very pleased. If they want to smoke, we do have a side door and they can go outside and smoke," Monshizadeh said.
Still, he said, a universal citywide or statewide ordinance would be more fair to Lawrence businesses.
"Some bars and restaurants would lose a lot of guests if somebody does it and somebody else does not do it," Monshizadeh said. "If you leave it as a choice, it's going to be a hard call."
Farha said the customers who came to the Bella Lounge appreciated the smoke-free atmosphere. He will make a decision later this year about whether to keep the lounge smoke-free.
"But what if it was smoking? Would we have more customers? We don't know," Farha said.
Varied opinions
Webb and Farha said the City Commission had not asked for their input on the issue.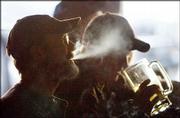 "I wish someone from the committee would ask me to give my opinion," Farha said.
The task force is getting such opinion, however.
The owners of two downtown establishments -- Chuck Magerl of Free State Brewing Co., 636 Mass., and Peach Madl of The Sandbar, 117 E. Eighth St. -- are on Mayor David Dunfield's smoking task force. Other members include health specialists, an architect, a data researcher and an arts benefactor.
An ordinance prohibiting smoking would be an attempt to protect both customers and employees from secondhand smoke, which is linked to respiratory diseases, according to the federal Centers for Disease Control and Prevention.
It's a debate being played out increasingly across the state and nation.
Last year, the city of Salina approved an ordinance banning smoking in restaurants between 5 a.m. and 9 p.m. daily. The ban was endorsed in November when it was placed before Salina voters.
And earlier this month, city commissioners in Hays reached a deal on an ordinance that would restrict smoking in restaurants, retail stores and bowling alleys.
Debates of statewide bans are occurring in Arizona and Washington state. Such bans are in place in California, Connecticut, Delaware, Florida, Maine, New York and Utah.
Webb, who has owned Jefferson's for four years and another smoker-friendly Jefferson's in Alabama for 13 years, understands the health risks and goes home smelling like smoke every day he works.
"It's a concern for me, too," he said.
Copyright 2018 The Lawrence Journal-World. All rights reserved. This material may not be published, broadcast, rewritten or redistributed. We strive to uphold our values for every story published.