Norman, Okla. — Since winning its first game under interim head coach Lynette Woodard, Kansas University's women's basketball squad had lost three straight games.
Saturday, Oklahoma stretched that streak to four with an 83-59 rout of the Jayhawks at Lloyd Noble Center.
A weak KU offense was no match for the perennial Big 12 Conference power Sooners.
Sophomore Tamara Ransburg was the lone Jayhawk to stand out offensively, pitching in 19 points and adding seven rebounds before fouling out. She also added three blocks and had just two turnovers.
The next-highest scorer for Kansas (9-13, 2-9) was Aquanita Burras, who had nine points. Erica Hallman chipped in seven points and six assists.
The Sooners, however, had no point problems. Maria Villarroel led OU (16-6 overall, 6-5 Big 12) with 22 points and six rebounds, Erin Higgins added 18 points and Dionnah Jackson had 10 points, five rebounds and seven assists.
Kansas didn't shoot terribly, there just weren't enough shots to go around. KU was 22-for-49 from the field (44.9 percent), but Oklahoma took 20 more shots and finished 28-69 (40.6 percent).
OU's statistical drubbing didn't end there. The Sooners had 19 assists to KU's eight, 42 rebounds against the Jayhawks' 36, 15 steals to KU's nine, and had just 16 turnovers. Kansas turned the ball over a whopping 25 times, including six by freshman Lauren Ervin.
Oklahoma scored 30 points off turnovers; Kansas scored 9.
The Sooners attempted a whopping 25 three-pointers, sinking 10, and led 45-28 at halftime.
KU will try to shake its funk when the Jayhawks play host Tuesday to Iowa State. Tipoff is set for 7 p.m. at Allen Fieldhouse.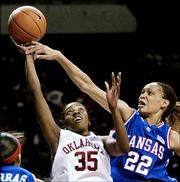 Copyright 2017 The Lawrence Journal-World. All rights reserved. This material may not be published, broadcast, rewritten or redistributed. We strive to uphold our values for every story published.