San Francisco — Gay and lesbian couples from across the country answered this city's Valentine's Day invitation to wed in an unprecedented spree of same-sex marriages that has challenged California law and sent conservative groups scrambling for court intervention.
Hundreds of people lined up Saturday outside City Hall to secure marriage licenses -- and then take each other as "spouse for life" in brief vows that have given San Francisco's seat of government the feel of a Las Vegas wedding chapel.
As passing drivers honked and strangers passed out roses, those waiting hours in line cheered couples who emerged from the ornate building clutching the controversial marriage licenses.
"It's finally somebody saying, 'Yes, you can do this,'" said Peter Subers, 57, of Washington County, N.Y., as he stood in line with husband-to-be Rob Bauer, 63.
They already had plans to head to Northern California, but decided Friday on the flight west to marry. Saturday was their 34th anniversary.
It was the third straight day that officials issued the licenses to hundreds of gay and lesbian couples. The response has been so overwhelming that nearly 200 city officials, led by newly elected Mayor Gavin Newsom, have volunteered to pitch in, from sheriff's deputies providing security to clerks processing the licenses.
Rodney Vonjaeger and his partner John Kussmann, both 37, drove overnight from San Diego and arrived at 3 a.m. Saturday.
"We decided if there was ever an opportunity we would do it, so the drive wasn't even a consideration," Vonjaeger said as he waited in line Saturday. They set the hotel alarm for 8 a.m., "but we were up at 7 because of the excitement."
San Francisco officials said they expected to hand out about 600 licenses Saturday, and by late afternoon had already recorded 270 same-sex weddings.
City officials said they would welcome license applications on Saturday, today and Monday -- Presidents Day -- to accommodate couples who have flocked from places including Oregon, Minnesota, New York and Seattle.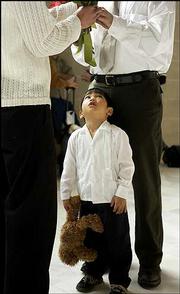 Copyright 2018 The Associated Press. All rights reserved. This material may not be published, broadcast, rewritten or redistributed. We strive to uphold our values for every story published.