Daytona Beach, Fla. — Dale Earnhardt Jr. already hears the whispers.
Will he ever win the Daytona 500?
Junior goes into NASCAR's biggest event 0-for-4, even though he has been among the favorites in three of those races and was the overwhelming pick a year ago.
His father, who had a considerably better resume than the kid early in his career, took 20 years to win the Great American Race.
Until then, he was asked the same question every season leading up to the Daytona 500: "Think you'll ever win this race?"
Earnhardt Jr. shudders when he thinks about hearing that same query over and over for years to come.
"I figured that would start up after I didn't win it last year," Little E said, shaking his head.
That one was the biggest disappointment so far.
Junior won the Budweiser Shootout, took the outside pole in time trials, won one of the 125-mile qualifying races and the Busch Series race leading up to the big day.
He was, well, intimidating. No one had ever swept all four races at Daytona, but Junior was the odds-on favorite to be the first.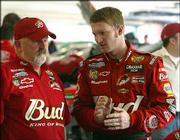 Even after a failed alternator cost him a lap, Earnhardt expected to get back into the fray. Instead, he sat frustrated and sullen as rain stopped the event 91 laps before its scheduled completion.
Dale Earnhardt Inc. teammate Michael Waltrip won the race, as he did in 2001, the year Junior finished second -- just moments after a last-lap crash on Daytona's 2 1/2-mile oval cost the elder Earnhardt his life.
The 29-year-old driver, a third-generation NASCAR star, will start third in today's 43-car field at the season-opening Daytona 500, his powerful Chevrolet trailing only the Fords of pole-winner Greg Biffle and Elliott Sadler.
The audience of about 180,000 will include President Bush, who is seeking re-election, and Whoopi Goldberg, plugging her NBC sitcom while acting as honorary starter.
Earnhardt, who again won his qualifying race this week, remains a favorite. But it's a role he has to share this time with Waltrip, a perennial contender at Daytona and Talladega, the two big tracks where NASCAR requires carburetor restrictor plates to keep the cars under 200 mph.
Between the teammates, they have won nine of the last 11 Cup races on the two tracks. Last year, Waltrip added a victory in the fall race at Talladega, while Earnhardt won the spring race there.
Biffle, then a Cup rookie, broke up the momentum slightly with a victory in July at Daytona.
And Sadler, who won the other qualifying race Thursday, also could be considered a favorite, although he isn't taking the DEI duo lightly.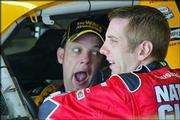 Those "are the two cars that we're going to have to outrun," Sadler said. "But I don't mind being the underdog.
"Lord knows I haven't been to Victory Lane as many times as those guys have in restrictor-plate races, but I think I've got a great car that can do it this year."
Today's race is expected to be a typical restrictor-plate event, with lots of two- and three-wide racing and the constant chance of a big wreck.
And throw in plenty of concern about tire wear, with Goodyear bringing a new right side tire that has put a premium on chassis set-up.
Add in a rear spoiler shortened by three-quarters of an inch since last July, when the cars last race at Daytona, and its a new game.
Some like the changes. Some don't.
"I think we're finally in a situation where guys can race," said 2002 series champion Tony Stewart. "At least for the race, the drivers can actually drive and decide who wins the race by who outdrives whom."
Earnhardt doesn't agree.
"The 500 is just going to be a bunch of guys hanging on to the cords of the tire," Junior said. "I'm complaining because I want it to be a lot easier.
"There are some guys in the field who are having worse problems than you are. It's just a huge difference from how these cars drove here last year."
The drivers do agree its considerably easier to be out front with these cars. But for someone to get to the front is going to take some help from a friend or teammate in the draft.
Junior and Waltrip chose to try it on their own late in Thursday's 50-lap race and Junior still ran away, beating Stewart to the finish. But, in a 200-lap, 500-mile race, they are expected to work together.
"Michael and Dale Jr. have figured out how to stay together and help each other," said Darrell Waltrip, a Daytona 500 winner and now a TV commentator. "It's just like when Michael won the 2001 Daytona 500, Dale was back there telling them, 'Stay together, stay in line, stay on the bottom of the track.'
"That's been drilled in their heads and they can do it better than anybody. That's what makes them so tough."
And, if Earnhardt comes up short again, well, there's always next year.
"If I'm sitting here 20 years from now without a Daytona 500 win, that might mean something," Junior said. "Right now, it don't mean anything."
Copyright 2018 The Associated Press. All rights reserved. This material may not be published, broadcast, rewritten or redistributed. We strive to uphold our values for every story published.