Ames, Iowa — Give Iowa State's fans an assist in this shocker.
Energized by a boisterous crowd, Iowa State came from 14 points down in the second half to beat No. 11 Texas, 78-77, Saturday.
Jake Sullivan scored 24 points to lead the Cyclones, Damion Staple dunked in the winning basket with 1:09 left and with the crowd at its noisiest, Brian Boddicker of Texas missed two free throws that could have won it in the final seconds.
"Our crowd in our big games here -- Xavier, Iowa, this game, Missouri -- basically comes out of the stands and comes on the floor and breathes more energy into our guys," Iowa State coach Wayne Morgan said.
Those fans actually did come onto the court Saturday. Hundreds swarmed out of the stands when the final buzzer sounded to join the celebrating Iowa State players.
"I've never had the feeling before," said Iowa State freshman Curtis Stinson, who had 18 points and 10 assists. "It felt real good."
Iowa State (14-7, 5-5 Big 12 Conference) had been blown out in its three previous games, but showed resolve this time after trailing 61-47 with less than 14 minutes to play. The Cyclones outscored Texas 31-16 the rest of the way, leaving Longhorns coach Rick Barnes shaking his head in dismay.
"We gave the game away," Barnes said. "Give them credit. They stayed with it. But we helped them get back in the game with poor decisions. You just can't do that."
Texas (17-4, 8-2) faltered after taking a 77-76 lead on James Thomas' two free throws with 1:47 left. Iowa State missed two shots, but retained possession both times and Stinson drove into the lane looking for a shot. His defender, P.J. Tucker, fell, and when Boddicker slid over to help, Stinson slipped the ball to Staple, who slammed it through with both hands.
"When I turned, the big man was there and Damion flashed behind him," Stinson said. "It was a good move by Damion. I just had to get him the ball."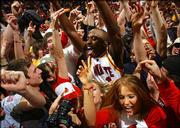 After each team missed a shot, Texas had a chance when Boddicker, an 81 percent free-throw shooter, went to the line with 5.3 seconds left. With fans screaming and waving their arms and towels and Sullivan doing jumping jacks at the top of the key, both of Boddicker's shots bounced off the back of the rim.
"I would like to have (seen) the decibel level when Boddicker was shooting those free throws," Morgan said. "It was loud."
Brandon Mouton, who led Texas with a career-high 29 points, shot an airball on a hurried putback attempt and Tucker missed on the follow. Iowa State's Jared Homan grabbed the rebound and the buzzer went off.
"The first one I thought was a little long. The second one felt good," Boddicker said. "It was just tough. I felt like I let my teammates down."
Jackson Vroman added 20 points for Iowa State on 9-for-12 shooting. Homan scored 10 points.
Mouton went 12-of-23 from the field, including four three-pointers, in topping his previous best of 27 against Connecticut in the NCAA Tournament last year. Jason Klotz added 13 points for the Longhorns and Tucker had 12.
Texas outrebounded Iowa State 45-28 and had 19 offensive rebounds. The Longhorns scored six baskets on putbacks, three of which they turned into three-point plays, but couldn't get one at the end.
No. 10 Oklahoma St. 91, Baylor 58
Stillwater, Okla. -- Tony Allen and Ivan McFarlin each scored 14 points for the Cowboys, and John Lucas had 13 in his first game against the school he transferred from last summer. The Cowboys (19-2, 9-1) won their ninth straight and took sole possession of first place in the Big 12. Terrance Thomas had 16 points for Baylor (7-16, 2-8) in its worst loss of the season. Oklahoma State opened the game with a 17-2 run and extended that into a 43-14 halftime lead.
No. 18 Texas Tech 82, Kansas State 71
Lubbock, Texas -- Andre Emmett had 26 points and 10 rebounds, his seventh double-double of the season, to lead Texas Tech. The Red Raiders (18-6, 6-4) led 60-48 on a 10-footer by Ronald Ross with 13:44 remaining. Kansas State cut the margin to 70-67 with 5:31 left, but Tech went on a 6-0 run with Emmett getting four of the points. Jarrett Hart and Tim Ellis each scored 20 points for the Wildcats (11-10, 3-7).
Oklahoma 78, Texas A&M; 72
College Station, Texas -- Drew Lavender scored a career high 31 points, including nine in the final two minutes, to lead the Sooners. Oklahoma (16-5, 6-4) has won six of its last seven games, following its four game losing streak in early January. Jason Detrick had 14 points and Lawrence McKenzie added 10. Texas A&M; (7-14, 0-10) was led by Kevin Turner, fresh off a one game suspension for violating team rules, with 16 points.
Copyright 2018 The Associated Press. All rights reserved. This material may not be published, broadcast, rewritten or redistributed. We strive to uphold our values for every story published.