Los Angeles — LeBron James and Carmelo Anthony were more than ready for prime time -- and their new buddy show was a smash hit.
James scored 33 points and hooked up with Anthony for four breathtaking alley-oop dunks that were the best moments in the sophomores' highlight-filled 142-118 victory in the Rookie Challenge on Friday night.
Though neither player was selected for Sunday's All-Star game, James and Anthony are arguably the NBA's most anticipated rookie duo since Magic Johnson and Larry Bird -- and in a game mercifully free of defense, they put on a show worthy of the hype.
In their only competition of the weekend, the 19-year-old prodigies were the main attractions on a rookie team going against a squad of second-year pros led by Yao Ming and MVP Amare Stoudemire, who had 36 points and 11 rebounds.
James' pairing with Anthony was so enticing that the NBA moved the game from its usual spot in All-Star Saturday festivities, giving it a prime-time slot Friday night before a sellout crowd at Staples Center. While James provided most of the gasp-inducing highlights, Anthony scored 17 points.
Stoudemire, last season's Rookie of the Year, made an incredible number of uncontested dunks. Carlos Boozer and Ronald Murray added 25 points apiece for the second-year pros, who made nearly 71 percent of their shots in the first half to turn it into a blowout.
But nobody cared: James, wearing gold-colored shoes that wouldn't be legal during the regular season, gave a performance that steadily got better after losing the opening tip to Yao, who barely jumped to swat the ball away from the 6-foot-8 James.
Rookies coach Doug Collins used James and Anthony in tandem during the first half, substituting them together and taking advantage of their teamwork. They needed less than four minutes to hook up on a spectacular play.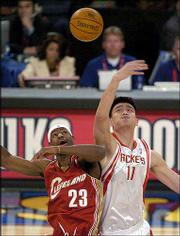 Anthony got loose on a fast break and served up an underhand alley-oop to James, who slammed it home to delirious cheers. They teamed up again with Anthony throwing a longer pass for another emphatic slam by James.
Their third connection came with less than five minutes to play when Anthony dribbled under the hoop and tossed it up to James, who dunked from the other direction. They added one more in the final minute, when both teams abandoned any pretense of defense for an impromptu dunk contest.
James, who declined an invitation to participate in the real dunk contest, threw down a two-handed behind-the-head slam moments later -- and Anthony capped the game with a similar jam. After Stoudemire accepted his trophy, James tossed his new shoes into the crowd.
The dunk contest and the long-distance shootout won't be held until tonight, but dunks and three-pointers were just about all the young players attempted during long stretches.
The sophomores led 72-59 at halftime, though Yao was jeered by his teammates after completely missing the basket support on a one-handed shot from halfcourt at the buzzer.
Copyright 2018 The Associated Press. All rights reserved. This material may not be published, broadcast, rewritten or redistributed. We strive to uphold our values for every story published.