Pendleton, Ore. — Rob Bell sat inside chute No. 5 atop Inside Out, a ton of snorting Brahma bull carefully chosen for his bad attitude and general dislike of people.
Someone shouted "Let 'er buck," the slogan of the Pendleton Round-Up. That's what Inside Out did, leaving the Canadian rider on the ground.
It happens each year for four days in the second full week of September (Sept. 15-18 this year), when this friendly, normally placid eastern Oregon city of 16,600 at the foot of the Blue Mountains attracts more than 50,000 visitors for one of the nation's biggest rodeos and premier Wild West celebrations.
But even though this year's event is months away, a spot check of Pendleton motels in January found many were already booked solid for round-up week, frequently by people who made reservations as they left last September and are drawn back year after year by fast action, splendid horses and horsemanship.
Accommodations in surrounding towns such as Hermiston, Umatilla, Walla Walla, Wash., and La Grande are easier to find.
Old West attitude
Last year more than 700 riders and ropers, including many of the world's best, took part. But round-up is more than a rodeo. It's an attitude.
The round-up and the hell-roaring town that spawned it have quieted since it began in 1910.
Monk Carden, now 94, a rodeo clown at the round-up in the 1920s and 1930s, remembers.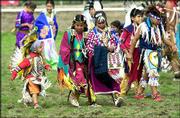 "During the moonshine days during round-up, if they caught you with a bottle, they couldn't put you in jail because the jails were full," he said. "All they could do was to pour it out on the ground. Word got out and that made Pendleton mighty popular. Anyway, if someone had a bottle, he probably tried to drink it all at once, so he wouldn't get caught."
Carden said he would sneak into town as a young boy on Saturday nights just to watch the fights.
It's different now. City Manager Larry Lehman said even an open container downtown, where the celebration is in full tilt during round-up week, was rare.
These days Pendleton is a comfortable, unpretentious, openly friendly, middle-class town that retains a Western flavor. While the round-up fiercely defends its Old West traditions, it, too, has become more family-friendly.
The cowboys drawn to the round-up also have changed.
"It's not the local guys off the local ranches any more," Lehman said. "That's been a big change over the years."
Riders come in from most Western states and as far away as Australia, paying hefty entry fees with no guarantees and a fair chance of getting injured in events such as steer-wrestling, bull-riding, bareback and saddle-bronc riding, barrel-racing, wild-cow milking and more.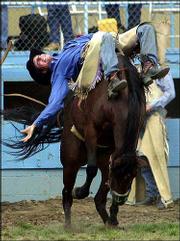 "More are professional cowboys now, and while they are here to have a good time, because of the business they are in, they have to stay in top shape to compete," he said.
Tribal history
The script of the Happy Canyon Night show, a pageant depicting the development of the West as seen by the American Indians, then the settlers, was written in 1916 and includes some turn-of-the-century stereotypes. Yet hundreds of tribal volunteers participate in roles that are handed down from one generation to the next, and a narrative has been added that outlines the disease, injustices and land-grab treaties that ended the tribal ways of life.
Many American Indians who take part in round-up say they see it as a cultural statement, an assertion of their identity and a chance to hobnob with friends and relatives they haven't seen all year.
"We hope to give people the opportunity to realize who we are today, not who we were when the show ends," said Bobbie Conner, director of the 46,000-square-foot Tamastslikt Cultural Center that the tribes built on the reservation east of town.
Pageant directors tried to rework the script with results nobody liked, and went back to the original.
Organizers of the Happy Canyon pageant defend it.
"This show depicts history. It has nothing to do with the present day and age," said Doug Corey, a member of the Happy Canyon board of directors. "The tribes work closely with us on the script to make changes to get it like it is today."
Getting there: Pendleton is about a 3 1/2-hour drive east of Portland on Interstate 84, through the Columbia River Gorge, passing points of interest including Multnomah Falls and Bonneville Dam.Accommodations: A variety of the usual chains are in Pendleton as are many independents. Confirm rates for round-up week before booking. Many round-up fans bring campers and motor homes, and some residents rent rooms in their homes. Private home space is coordinated by the Pendleton Chamber of Commerce, (541) 276-7411 after April 1.The rodeo: Early phases, or "slack" rounds, Tuesday through Thursday mornings are free or at most $2. Those who score high enough go on to the regular rodeo Friday and Saturday afternoons. Tickets range from $11 to $18 and some of the better sections already are listed as sold out.Happy Canyon: The nighttime pageant Wednesday through Saturday depicts the settling of the West. It ends with an amazing square dance -- on horseback. Tickets are $7-$13 with special prices some days for family groups, seniors and children. A dance and gambling hall follow.Pendleton underground: The tour of Pendleton's turn-of-the-century underbelly, which was housed beneath the streets of the older part of town, offers a look at aspects of the Wild West often forgotten. Reservations are recommended, especially in summer. Most tickets are $5-$10. Call (541) 276-0730.Pendleton Woolen Mills: Pendleton woolen goods have put this city on the map. The mill gives free scheduled weekday tours. The sales room handles an extensive line of Pendleton goods. Call (541) 276-6911.Tamastslikt Cultural Institute: This 45,000-square-foot, $18 million cultural center that opened in 1998 was built by American Indian tribes to tell their story. Open daily from 9 a.m. to 5 p.m., closed Thanksgiving, Christmas Day and New Year's Day. Call (541) 966-9748. To get there, drive four miles east of Pendleton on I-84 to exit 216 and Oregon Highway 131. Follow the signs for the tribe-owned Wildhorse Resort complex, which includes a casino, a hotel, golf course and RV facilities; call (541) 276-2323.
Copyright 2018 The Associated Press. All rights reserved. This material may not be published, broadcast, rewritten or redistributed. We strive to uphold our values for every story published.