Situation Normal All "Fouled" Up.
SNAFU was an acronym invented by soldiers to describe life in the U.S. Army. All the same, Pvt. Darrell Hunsaker of Lawrence couldn't help but wonder whether the snafu he encountered on his way back to Iraq was all a bad joke.
A few days before Christmas, as he neared the end of his military leave time with his family in Lawrence, Hunsaker called an Army hot line to reschedule his flight from Kansas City International Airport to begin the first leg of his trip back to Iraq.
What Hunsaker heard after dialing the number was a recording.
"Welcome to the world of psychic possibilities," the woman's voice said. "Our gifted clairvoyants will answer your questions at a price anyone can afford."
Hunsaker was incredulous. "I can't believe this," he recalled. "I should have asked them, 'How am I getting to Iraq?' Do you think they would have known?"
Hunsaker then turned the phone over to his father, Sam Hunsaker. Dad dialed the same number and got the same recording for the Psychic Friends Network.
"It's just ridiculous," Sam Hunsaker said. "I said, 'Maybe they aren't telling you something. Maybe you are supposed to call them. Maybe it is a top-secret thing with the Army.'"
Thus began several days of confusion and a flurry of phone calls and e-mails by Darrell and his mother, Robin Hunsaker, and father to Delta Airlines and the military.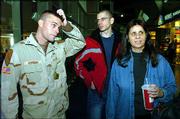 A tank mechanic with the 1st Cavalry Division, Darrell was originally to leave KCI the morning of Dec. 22. But if he had done that, he would have been waiting a day at the Dallas-Fort Worth airport until his connecting flight to Kuwait left the following day. Darrell Hunsaker said he had permission from one of his sergeants to change the flight out of KCI to the morning of Dec. 23rd so he would spend less time at the Dallas airport and more time with his family, yet still catch the plane to Kuwait in plenty of time.
As things turned out, he didn't fly from Kansas City until Wednesday.
Long wait
Hunsaker returned home in early December after being in Iraq nearly a year. Though scheduled for leave at various times early in the year, he kept getting bumped, prompting his father to write letters complaining to Kansas congressional representatives.
"It seems like it was harder to get him sent back now that we did all that to get him here," Sam Hunsaker said.
Robin Hunsaker made calls to Delta Airlines and ended up talking to call centers in India in the effort to get her son's flight rescheduled.
"They'd put me on hold for 25 minutes," she said. "Then I could hardly understand them."
Darrell Hunsaker's flight from KCI to Dallas ended up being scheduled for Monday morning.
The Hunsakers thought it was all worked out despite the difficulties. That was until Darrell Hunsaker arrived with his parents at the airport Monday morning. He was told by a Delta representative the flight reservation had been made but the Army hadn't paid for the ticket.
"It wouldn't have made any difference whether he left Monday or on the 22nd -- the ticket wasn't paid for," Robin Hunsaker said.
Delta wouldn't let him on the plane unless the Hunsakers paid the fare. So the family returned home.
During more phone calls Monday and Tuesday, the Hunsakers worked with Sato Travel, the military's travel agency, to arrange another flight, this one for Wednesday afternoon from KCI to Dallas.
"The lady at Sato said this had happened more than once to other people in the military," Robin Hunsaker said.
Meanwhile, despite several e-mails between himself and military personnel, Darrell Hunsaker learned that he might have been put on an Away Without Leave or AWOL list.
"I just hope I don't get in trouble when I get back," Darrell Hunsaker said.
Darrell's 1 p.m. flight Wednesday afternoon from KCI was delayed more than an hour. He was supposed check in with the military by 3 p.m. at the Dallas airport before going on to Kuwait.
A Pentagon officer called by the Journal-World sighed when he heard about Darrell Hunsaker's plight.
"Obviously it sounds like what happened to this soldier is very unfortunate indeed, and certainly not intentional on anyone," said Army Lt. Col. John Skinner. "I'm sure when he gets back to his unit and fully informs them of what took place, I'm sure they'll do whatever it takes to keep something like this from happening again."
Copyright 2018 The Lawrence Journal-World. All rights reserved. This material may not be published, broadcast, rewritten or redistributed. We strive to uphold our values for every story published.