Geetha Hewawasam saw the images on TV.
The rushing water, the mass graves, the houses turned into muddy rubble. They weren't at a faraway place. They were at her home, in Sri Lanka.
And she knew that somewhere in the chaos that came in the wake of Sunday's earthquake and tsunami was her family. She feared the worst.
So she called home. And called. And called. But the calls didn't go through.
"I was feeling very horrible about things," said Hewawasam, a Kansas University graduate student in chemistry. "I didn't think my family was safe."
Finally, at 3 p.m. Monday, the phone rang on the other end. Hewawasam's mother answered.
"Everybody is safe," Hewawasam said. "I'm so happy now. Thank God."
Her parents live several miles from the southern coast of Sri Lanka. Her aunt and uncle, who live a few hundred meters from the coast, lost their house in the flooding. And Hewawasam said her brothers had lost friends.
Officials estimate more than 22,000 people were killed by the tsunamis, which were sparked by the strongest earthquake recorded in 40 years. About half the deaths were in Sri Lanka.
"My mother said there are a lot of dead bodies all through town," Hewawasam said. "They're still recovering them."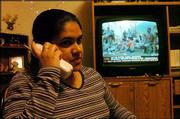 Hewawasam said it was difficult watching the images on TV and not being able to help.
"Those are my places," she said. "I haven't seen such a horrible thing in my life. I want to be with my family at this moment. Unfortunately, I can't go. It's not an easy time right now."
No direct impact
KU had 363 students from countries affected by the tsunamis enrolled during the fall semester, said Todd Cohen, a university spokesman. There were 256 from India, 54 from Malaysia, 28 from Indonesia, 17 from Thailand and eight from Sri Lanka.
Michael Mosser, assistant dean of the Graduate School and international programs, said his office had yet to hear from any students directly affected by the tsunami. He said KU would help students contact their families if asked.
"We haven't got any phone calls or e-mails in our office from anyone with a personal connection wanting help," he said. "We haven't heard anything."
Mosser said KU students and their families might have been spared because coastal areas tended to be poorer, while only the relatively affluent had money for their children to study abroad.
"As tragic as it is, this is a coastal sort of thing," Mosser said. "It's unlikely people from these villages, their sons or daughters, would be studying here at KU."
'It's frustrating'
Rashida Banerjee's family lives far from the coastal areas affected, but she said she felt the pain of her country.
Banerjee is a KU graduate student from India. She said the worst part for her was knowing that those affected had little -- if any -- warning the water was coming.
"You feel so strange," Banerjee said. "They wouldn't have even known it was coming. It's frustrating."
Banerjee's family lives in northern India, far from the destruction. She's hoping members of the KU Cultural India Club will join to contribute to relief funds when members return to campus next month.
Until then, Banerjee said she felt helpless as she watched news reports with rising death tolls.
"They keep on coming up with bigger numbers," she said. "It's an amazing number of people."
Copyright 2018 The Lawrence Journal-World. All rights reserved. This material may not be published, broadcast, rewritten or redistributed. We strive to uphold our values for every story published.