Rich Forney, administrator for the Salvation Army in Lawrence, has a fondness for bell ringers, the old-fashioned, real-people kind, not the cardboard cutouts.
The Salvation Army here and across the nation has struggled to recruit enough bell ringers to tend its charity kettles this holiday season, and so in some cities, though not yet in Lawrence, it has resorted to mechanical, cutout bell ringers.
But the cutouts are no match for flesh-and-blood bell ringers who welcome people to stores, open doors for those whose arms are full and otherwise help shoppers.
"A cardboard cutout cannot do that," Forney said.
But Forney understands too well the reason the cutouts are being used. Wednesday, only about half of the 19 Salvation Army kettles in Lawrence were out because there weren't enough people to work the stations.
That means less money collected to help the relief agency meet its goal of raising $85,000 by 4 p.m. Friday, when the kettle campaign ends.
The Salvation Army has used mechanical cutouts as bell ringers in 14 states. Chris Priest, public relations director for the Salvation Army's southwest territory, said of the 20,000 kettle sites in the United States, the cutouts were used at about 100 this year.
"It is just a test," Priest said. "We won't have the results of how they worked until after Christmas. And it's hard to say how it is going. I'm hoping they will do very well. It is a rather unique idea, and we are hoping it will catch on."
If the cutouts are a success, their uselikely will spread.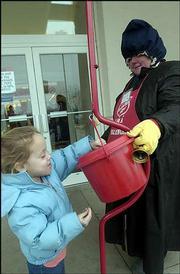 "If we get direction from our headquarters, we will start using them in select places," Forney said. "But I really like using real people."
Forney said that despite the shortage of bell ringers this season, he thought more people and groups stepped forward locally to volunteer this year than last.
Renee Low, who works at the Salvation Army, said 85 to 100 different groups and individuals volunteered as bell ringers this year. The organization also paid some people to ring bells. Paid bell ringers earned $6.50 an hour, she said.
The kettle program nationally is expected to generate at least $90 million this year. Forney said people also could donate money by calling (800) 725-2769 and specifying thatthey want the dollars to go to the Salvation Army in Lawrence.
Forney said he would announce the totals from this year's kettle campaign onTuesday.
Copyright 2018 The Lawrence Journal-World. All rights reserved. This material may not be published, broadcast, rewritten or redistributed. We strive to uphold our values for every story published.