Washington — Health and Human Services Secretary Tommy Thompson joined the second-term exodus from the Bush administration Friday, but Defense Secretary Donald Rumsfeld won assurances that he can keep his job.
A senior administration official, insisting on anonymity to discuss sensitive personnel issues, said President Bush told Rumsfeld he could have another four years at the Pentagon. The endorsement was a rebuke to critics, including some within the administration, who blame Rumsfeld for many of the current problems in Iraq.
Detractors say Rumsfeld failed to provide sufficient troops for the Iraq invasion and had no clear plan to secure the peace. The administration official said Bush thought that Rumsfeld was "the right person at this moment in our history in fighting the war on terror to lead our armed forces."
Although Rumsfeld's future had been an open question, Thompson's resignation had been expected. He became the eighth of 15 Cabinet members who've announced their resignations since Bush was re-elected Nov. 2.
Thompson had long ago signaled his intention to leave after four years of overseeing the agency that he called "America's Department of Compassion."
"It's time for me and my family to move on to the next chapter in our life," he said at the agency's headquarters.
Mark McClellan, the head of the Medicare program and a brother of White House spokesman Scott McClellan, is the top candidate to replace Thompson.
Thompson also used his resignation news conference to warn about two possible threats facing the nation: a deadly avian-flu epidemic and a terrorist attack on food supplies.
Citing estimates from the World Health Organization, Thompson said that as many as 70 million people worldwide could die in a massive flu outbreak. Of about 40 known cases of avian flu in humans so far, about 30 have been fatal.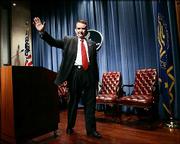 "No other disease has had that kind of lethality before. And we do not have a vaccine," he said. "This is really a huge bomb out there."
He said he worried "every single night" that terrorists would poison food supplies and was amazed that they hadn't.
"It is so easy to do," he said. "We're importing a lot of food from the Middle East, and it would be easy to tamper with that."
As expected, Bush found a replacement for another departing administration official Friday, naming former New York Police Commissioner Bernard Kerik to run the Homeland Security Department.
Kerik, who turned to law enforcement after a bleak early life as the abandoned son of a prostitute, earned Bush's confidence by helping to train a new police force in Iraq. If the Senate confirms him, he'll replace Tom Ridge.
The turnover rate in Bush's Cabinet mirrors the experience of other recent two-term presidents, including Bill Clinton, who lost half his Cabinet in his second term.
Top government officials traditionally view the start of a second term as the best time to cash in on their experience by shifting to more lucrative, less demanding private-sector jobs. For a second-term president, the personnel changes are an opportunity to bring new life into the administration.
"A number of them have served a full four years now, and that's a long time for anyone to serve in a position like that. It is also good to have some fresh new faces in place from time to time," Scott McClellan said.
Resignations are expected soon from Treasury Secretary John Snow and Transportation Secretary Norman Mineta
Copyright 2018 The Lawrence Journal-World. All rights reserved. This material may not be published, broadcast, rewritten or redistributed. We strive to uphold our values for every story published.