Services for Richard G. Bate, 89, Lawrence, will be at 10:30 a.m. Monday at Free Methodist Church in Lawrence. Graveside services will be at 2:30 p.m. Monday in Trading Post Cemetery in LaCygne.
Mr. Bate died Wednesday, Dec. 1, 2004, at Lawrence Memorial Hospital.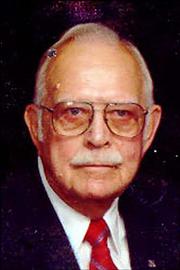 He was born May 26, 1915, in Chillicothe, Mo., the son of Grover C. and Leota L. Rhone Bate. He attended Paola schools.
Mr. Bate worked as a projectionist for theaters throughout the Kansas City area and later worked for WDAF-TV in Kansas City as a studio cameraman. He was a member of Free Methodist Church.
He married Freda Pauline Carpenter on Jan. 24, 1938, in Independence, Mo. She died Jan. 14, 1990. He married Laurice Young Kramer on Feb. 2, 1991, in Lawrence. She survives, of the home.
Other survivors include two stepdaughters, Karen Sutton, Berryton, and Judith Gallant, Houston; a brother, Edgar, Chillicothe, Mo.; five stepgrandchildren; and seven stepgreat-great-grandchildren.
Friends may call from noon to 9 p.m. Saturday at Rumsey-Yost Funeral Home.
The family suggests memorials to the church, sent in care of the funeral home.
Online condolences may be sent at www.rumsey-yost.com.
Copyright 2018 The Lawrence Journal-World. All rights reserved. This material may not be published, broadcast, rewritten or redistributed. We strive to uphold our values for every story published.