Manchester, Conn. — In a shopping mall outside Hartford, Conn., past the Abercrombie & Fitch and the cell phone kiosks, tucked away by the Barnes & Noble, a conference room full of security guards is learning how to spot suicide bombers.
The guards are being taught blast patterns and behavior profiles, how a bomb is packaged and how a bomber is recruited.
Suburban shopping mall security guards -- whose jobs usually consist of watching for shoplifters and shooing away loitering teenagers -- are receiving the type of training that just a few years ago was reserved for the Israeli police and the U.S. military.
"If they're carrying a bag, look for that white-knuckle grip. ... They're carrying that package and they're holding onto it for dear life," Patrick Chagnon, a Connecticut State Police detective and national counterterrorism instructor, tells his class of 10 students as the Shoppes at Buckland Hills mall bustles with holiday shoppers carrying bags and boxes of all sizes.
Chagnon's students also are told to watch for people wearing oversized clothes, and are instructed to make eye contact with shoppers and look for either extremely focused people or those who won't return a look. Another tip-off: Terrorists often ritualistically shave their bodies before carrying out a suicide bombing, he says.
Around the country, enrollment in these suicide bombing classes has increased in the past year, and the students include not just elite SWAT team members, but also local patrol officers and private security forces.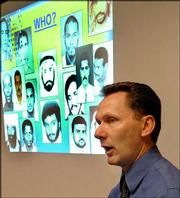 "Everyone has an obligation to be a soldier in this war," Connecticut Homeland Security Director John Buturla said.
The International Council of Shopping Centers had about 20 anti-terrorism classes this year and plans dozens more next year, said Malachy Kavanagh, who helps organize training for the organization. A class of mall security directors recently received training at the FBI Academy in Quantico, Va.
"Our attitude is that everybody has a role: mall managers, engineers, maintenance people," Kavanagh said. "The more people you train, the more eyes you have, the more people you have aware, the better your opportunity to prevent things."
Copyright 2018 The Associated Press. All rights reserved. This material may not be published, broadcast, rewritten or redistributed. We strive to uphold our values for every story published.